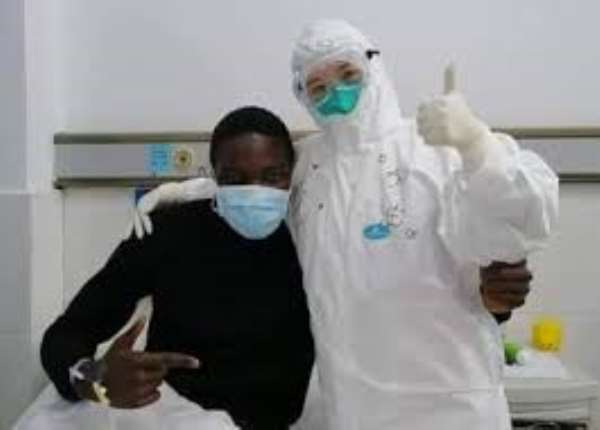 We are certainly in desperate times and this isn't the time for labour agitation or wage negotiation. Neither should any person or group take advantage and see these difficult times as golden goose to siphon money from the state.
Since the president announced that frontline health workers would enjoy an additional benefit of 50% more of their basic salaries, almost all health professionals in the country have been scrambling for recognition as frontline health workers.
I find these calls very shameful, unpatriotic, uncalled-for and appalling. The entire health workers in the country cannot be frontline workers. It will only be disingenuous for any group to claim they are frontline workers if they aren't directly involved in taking care of Coronavirus patients. The Oxford Dictionary succinctly explains who a frontline worker in - the military line or part of an army that is closest to the enemy.
So there shouldn't be any confusion about who constitutes a frontline health worker. They are the ones at the war front – the doctors and nurses wearing PPEs, including face shields, gloves, goggles and glasses, gowns, head covers, masks, respirators and shoe covers taking care of Coronavirus patients on daily basis. Is definitely not the pharmacist giving prescription, neither is it the doctor or nurse sitting in office or ward providing ancillary services. While I recognise that the work of every health worker is critical at this moment, I also think health workers shouldn't capitalize on this fragile situation to exploit the nation.
And did I hear my friends in the media, including the Ghana Journalist Association (GJA) and the Private Newspaper Publishers Association of Ghana (PRINPAG) also saying they are frontline workers? If journalists are frontline workers because they go out to interview market women and citizens, then their newsmakers are equally frontline workers because they also risk contracting the disease. Remember Coronavirus is like 'Government Official One' – although he lives with us, we can't see him, so everybody is a suspect, including the journalists themselves. I do acknowledge that the work of the journalist is equally important in this COVID 19 fight. But as far as discussions on frontline workers are concerned, journalists are a cog in the wheel.
By the way, I'm greatly concerned about the way government officials are pledging part of their salaries to the Covid-19 National Trust Fund. I hope they aren't thinking of creating non-existing projects post Coronavirus to recoup their monies? We will be monitoring!
Back to the main issue, if we all claim to be frontline workers, what should pilots, flight attendants, as well as other aviation workers and immigration officers at the Kotoka International Airport say? Technically, they were the first to welcome and come into contact with the Coronavirus patients in the country since most of the cases were imported. That's this qualify them as frontline workers? A BIG No is an answer!
I understand the president is now consulting various stakeholders to find an operational definition for a frontline health worker. I think this shouldn't be too difficult, and we should be careful not to open the Pandora box for unwarranted demands from fractious groups. I wonder who would have claimed to be a frontline worker if the president had announced that frontline workers would be held responsible for the death of any Coronavirus patient.
Extraordinary times require extraordinary services, solidarity, and unity. That's why is important that we all rise above monetary benefit, and work like the superannuated black players who played for glory and not money during their football days.
Let's stay home and stay safe!
The writer is a development practitioner, human rights and anti-corruption campaigner.