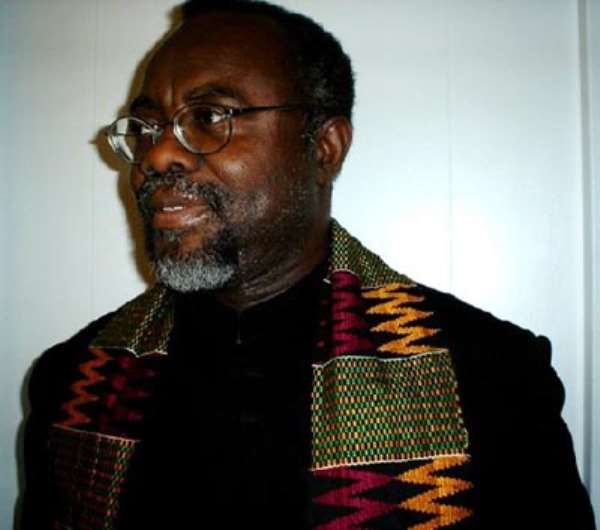 Generally speaking, birthdays are really not my thing – for the logical fact of the matter remains that one cannot honestly celebrate one's birthday, annually, without also logically thinking about one's death date. I find myself thinking more about my death date, or rather my death-day than my birthday. Death, according to the immortalized Bard-of-Avon, to wit, Mr. William Shakespeare, is inevitable, a necessary evil which will come when it will come. Put into simple intelligible English, the decision of who drops dead today or tomorrow is the exclusive preserve and/or judgment call of Dr. Death herself or himself. Which, logically, leads me to the very sad and tragic passing of Opanyin Yaw Sarkodie, of the Bronx, New York, Methodist Church of Ghana Congregation Member and native of Asante-Wiamoase, in the Sekyere-South District of the Asante Region of Ghana, on Tuesday, April 7, 2020.
So the Dear Reader ought to understand why I did not light the candles on the chocolate cake that Papa Yaw Sintim-Aboagye, the younger of my two boys, secretly asked his mother to buy for him and bring home with her from work early this morning. And when I told Yaw Sintim that the candles on the cake would not be lit because I was up to my neck deep in mourning, he did not seem to understand; he seemed a bit puzzled and, naturally, thought that that was very weird and almost stupid, until I added, by way of explanation, that Opanyin Sarkodie, the elderly gentleman who had performed the naming ceremony and done the libation at the births of both himself and his elder brother, Daasebre Kwame Okoampa-Ahoofe Agyeman, The Asiakwahene, had just transitioned the previous night, which was yesterday; and then it began to faintly sink in a bit, make just a little bit of sense to him.
Anyway, on the Googled website which I accessed in order to figure out the correct spelling of my deceased uncle's hometown, I also learned that in Ghana, Asante-Wiamoase is better known for being the geographical location of the Okomfo Anokye Secondary School; which resonated with an unmistakable streak of irony for me, because among the members of New York City's Ghanaian community, Opanyin Sarkodie was the one who had made Asante-Wiamoase an easily locatable township on the Ghana Map. What also makes the passing of Opanyin Sarkodie a very painful moment for me, is the fact that this tragic event has taken place at the very height of the globally sweeping China-originated Wuhan Virus, which is better known as the Novel Coronavirus and nicknamed COVID-19, because it is believed to have struck in Wuhan, China, some time between the months of September and November of last year, that is, 2019.
For a very gregarious Ghanaian community elder and leader, in the functional sense of the term, Opanyin Yaw Sarkodie's passing has the tragic-irony of occurring precisely at a time when the inhabitants of America's largest cities, including New York City, of course, are on what has been globally characterized as a "lockdown," an around-the-clock curfew, an expertly informed measure aimed at ensuring the containment of this apparently supersonic pandemic and a drastic reduction in the potential number of casualties. Which was also why for the nearly one week, or just a little bit more, during which the old man was admitted to the Columbia University Hospital, Maame Yaa Adowaa, one of the Addo-Kufuor and John Agyekum-Kufuor cousins, was not allowed to visit her beloved husband of some four decades at the Milstein Wing of the hospital, on the same block that my beloved mother passed away exactly 22 years ago, at 63 years old, almost to the day.
Opanyin Sarkodie, as I learned from Maame Yaa Adowaa just a couple of days ago, had been rushed to the Intensive Care Unit (ICU), on the same floor that my beloved mother, Mrs. Dorothy Tomina Sintim Okoampa-Ahoofe, had been rushed exactly 22 years ago, and been hooked to a ventilator for a couple of days, together with an Intravenous (IV) Feeding Tube. When I spoke to Mrs. Sarkodie about three days ago, after my younger sister, Mrs. Grace Yaa Agyeman Okoampa-Sykes had called me to report about the serious health condition in which Opanyin Yaw Sarkodie found himself, the patient had already been taken off the ventilator and was, according to his beloved wife, breathing on his own and had been doing so for at least a couple of days. I am reliably informed that at the time of his expiration, the patient was being prepared to be returned to one of the regular patient-recovery wards; he was pretty much alert and had his eyes open but was not talking. He had taken a heavy fall the week before, in the couple's Amsterdam Avenue apartment, about midnight, while he was on his way to pay his water rate, as it were.
Opanyin Sarkodie, according to his beloved wife, had taken a seismic hit on the back of his head; it was a seismic hit because the man stood just above 6-foot-tall and might have weighed about 200 pounds, although he looked much lighter than his actual weight. We don't have all the details of his accident yet, but it is quite reasonable to suspect that Opanyin Yaw Sarkodie may very well have suffered cranial hemorrhage in the tumble. I have been calling all day with nobody answering the phone. At one point, I thought I heard somebody pick up the house phone and clap it right back on the receiver. The couple may also very well be at once the most famous and distinguished couple in New York City's Ghanaian community, which is why I am not the least bit surprised to be having such a difficult time getting through to Maame Yaa on my cellphone. They have daughter and a son-in-law with a toddler living not very far off. I just thought the least I could do under these trying circumstances was to let all our relatives, friends and loved ones know that we are all decked in red and black mourning clothes.
*Visit my blog at: kwameokoampaahoofe.wordpress.com Ghanaffairs
By Kwame Okoampa-Ahoofe, Jr., PhD
English Department, SUNY-Nassau
Garden City, New York
April 8, 2020
E-mail: [email protected]