Cash confiscated from Hamas official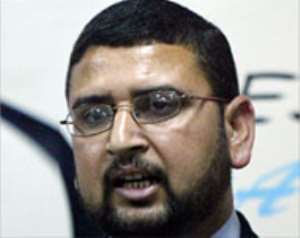 Palestinian border officials have confiscated more than $800,000 from a Hamas spokesman at Gaza's Rafah border crossing with Egypt, officials say.
Julio de la Guardia, a spokesman for the European Union observation force at Rafah terminal, said Sami Abu Zuhri had tried to cross into the Gaza Strip with the money but was detained and the cash confiscated.
He added that travellers cannot carry more than $2,000 without declaring it to the authorities.
The money was found stashed inside a belt, a Palestinian official at the crossing said.
Palestinian security at Rafah is provided by customs officials and the presidential guard, which is controlled by Palestinian leader Mahmoud Abbas, whose former ruling Fatah movement has been locked in a power struggle with Hamas.
Reuters reported Mushir al-Masri, a Hamas politician, as saying Abu Zuhri was carrying "donations from Arab nations to the Palestinian government and it was meant to pay for prisoners in Israeli jails".
Abu Zuhri was returning from Qatar.
Abu Zuhri initially refused to leave the crossing without the money, but did so when assured the cash would be released shortly.
Cash blockade
Facing a US-led funding and banking blockade, the Hamas-led Palestinian Authority has been unable to pay salaries to government employees in recent months.
Western governments have refused to give direct aid to the Palestinian government until Hamas renounces the armed struggle and recognises Israel.