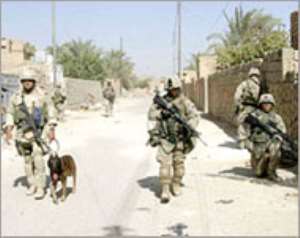 US marines deliberately killed civilians after a bombing in the western Iraqi town of Haditha last year, a former senior US marine says.
John Murtha, who served in Vietnam and is a Democrat congressman from Pennsylvania, made his remarks before the release of a military report into the November 19 incident, when US troops searched for fighters after a marine was killed by a roadside blast.
"Our troops overreacted because of the pressure on them and they killed innocent civilians in cold blood," he said.
"That is what the report is going to tell ... there was no firefight."
An investigation by Time magazine into the incident alleged that up to 30 civilians were killed, including women and children, when US forces entered a house in the town and opened fire.
Early official accounts from the US military said the civilians were killed by the same roadside bomb that killed the marine. Later it was said they may have been caught in crossfire between fighters and US forces.
Human rights activists say that if the accusations prove to be true, the incident would rank as the worst case of deliberate killing of Iraqi civilians since the US-led invasion in 2003.
'Ongoing investigation'
Officials on Thursday said they would not comment on the incident until the report was completed, but would not give a date for the report's release.
Lieutenant-Colonel Sean Gibson, a spokesman for US Central Command, said: "There is an ongoing investigation; therefore any comment at this time would be inappropriate and could undermine the investigatory and possible legal process."
At least three marine officers and their soldiers who were involved in the incident are being investigated over the incident, reports said on Thursday.
Donald Rumsfeld, the US defence secretary, told US news channels that the allegations were being investigated thoroughly and would be handled "in the normal order of things".