Three Taliban leaders captured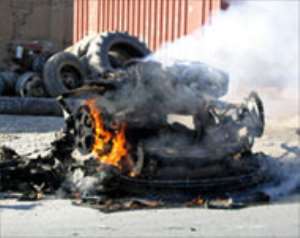 Three senior Taliban members were captured this week, Afghan authorities have said after two days of clashes in the country.
But officials did not confirm a report by the BBC on Friday that Mullah Dadullah, a top-ranking Taliban commander, had been caught.

About 100 people were killed in violence that began on Wednesday. It included a large attack on a town in the southern province of Helmand and two suicide bombings in different parts of Afghanistan.

There was also heavy fighting in the neighbouring province of Kandahar, in the Panjwai district 25km west of the provincial capital.

The province's governor told a news conference that three senior Taliban members had had been caught in Kandahar but he declined to identify them or say if one of them was Dadullah.

"We've arrested three high-ranking Taliban, members of their leadership council," Assadullah Khalid said.
Erroneous reports

Dadullah is a member of the Taliban's 10-man leadership council and is regarded as close to Mullah Mohammad Omar, the Taliban leader.

There have in the past been several erroneous reports that he had been captured or surrounded.
The Taliban have stepped up attacks on foreign and Afghan government forces in recent months as thousands more Nato peacekeepers arrive in the country.

The BBC said Dadullah was captured by international troops in Kandahar but Afghan and foreign military officials said they could not confirm the report.

General Rahmatullah Raufi, the commander of Afghan forces in the south, said a seriously wounded militant with only one leg had been captured.

"We can't say for sure it is Mullah Dadullah. Mullah Dadullah has only one leg and this guy has only one leg, but we suspect it's him," Raufi told Reuters.

A Taliban commander, contacted by telephone, said he could not confirm that Dadullah had been caught.
Mohammad Hanif, a Taliban spokesman, told the Pakistan-based Afghan Islamic Press that Dadullah had not been captured.

Hanif said he had spoken to Dadullah by radio on Friday.