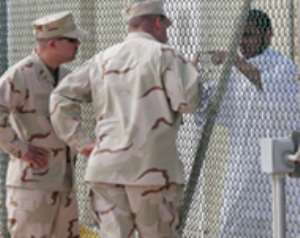 Fifteen Saudi prisoners detained in the US Guantanamo Bay prison have arrived in the Saudi capital, Riyadh, after their release from US custody.
The men were freed after US officials said they had been given assurances by Saudi authorities that the men would not be mistreated or allowed to become involved in "terrorism".
"We were able to assure ourselves that if these people were returned to Saudi Arabia that they wouldn't be tortured and they would be treated humanely," said Sean McCormack, a state department spokesman.
"They'll be under the control of the Saudi government."
The men's families gathered at King Khaled airport in Riyadh to meet the plane and greet them, reports said.
The news comes as the United Nations committee against torture said that the US should close Guantanamo Bay and its secret prisons abroad, saying that they violated international law.
'No threat'
The US confirmed the transfer as Prince Saud al-Faisal, the Saudi foreign minister, visited Washington for talks with Condoleezza Rice, the US secretary of state.
The military's administrative review boards can recommend that Guantanamo detainees be transferred to their home country if they are believed to no longer pose a threat or have no intelligence value to the US.
The 15 were among an estimated 100 Saudis held at the detention centre on the Caribbean island of Cuba - the second largest contingent after Afghans.
The transfer leaves about 460 prisoners detained at Guantanamo, the Pentagon said.
The US has been heavily criticised by human rights groups for its treatment of Guantanamo inmates, who are held indefinitely without being charged.