Nyantakyi receives Ivorian honor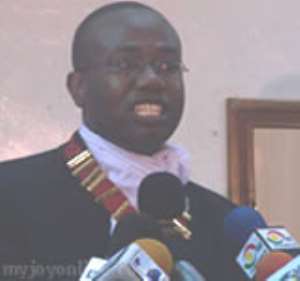 Ghana Football Association president, Kwesi Nyantakyi returned home last night from Abidjan where he was decorated with the Order of Ivory Coast title by Ivorian President, Laurent Gbagbo.
Mr Nyantakyi was among five federation presidents from the continent's World Cup representatives who had the highest national award of the West African country conferred on them by President Gbagbo.
The Ivorian leader's move to honour all the five FA presidents is in recognition of their efforts at enhancing the image of the African game through qualification of their national teams to the World Cup finals.
Speaking to Joy Sports at the Kotoka International Airport, the GFA boss described the award as a massive confidence booster for his administration.
"It's was a momentous event. The award was President Gbagbo's recognition of our efforts in ensuring that our countries qualify for the World Cup.
"I hope this would be serve as a morale booster for our boys as the prepare for the World Cup."