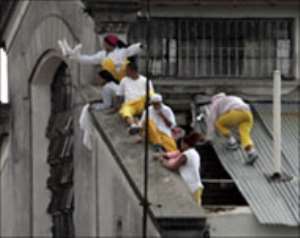 Police in the Brazilian state of Sao Paulo say they have shot dead 14 suspected criminals in continued clashes with gang members.
Suspected members of the First Capital Command gang - also known as the PCC - continued to fire at police stations on Thursday and also set fire to at least eight buses.
At least 170 have been killed in the violence, which erupted a week ago in response to the transfer of PCC members to a new high security prison.
About 40 police officers and four members of the public have been killed in the clashes and 18 inmates have died in prison uprisings blamed on the PCC.
'Under control'
In an interview with a Brazilian television station from his prison cell, the leader of the PCC, Marcos, "Marcola" Camacho, said the gang could step up attacks if they wanted to.
"We are ready for much more, we have the means for much more," Camacho told Bandeirantes television.
He said he tried to find a way to end the bloodshed, but that police "do not want to" and have "declared war".
Claudio Lembo, the Sao Paulo governor, insisted that the situation was under control.
Investigation
Human rights groups also continued to express concerns that police are carrying out summary executions of suspected gang members to stamp out the violence.

"There are death squads with masked people who come out of cars or motorcycles and kill people," said Ariel de Castro Alves, coordinator of the National Human Rights Movement.
"We already have a list of 16 people who were killed and had nothing to do with crime," Castro Alves said.
US-based Human Rights Watch has called for an investigation into the deaths.