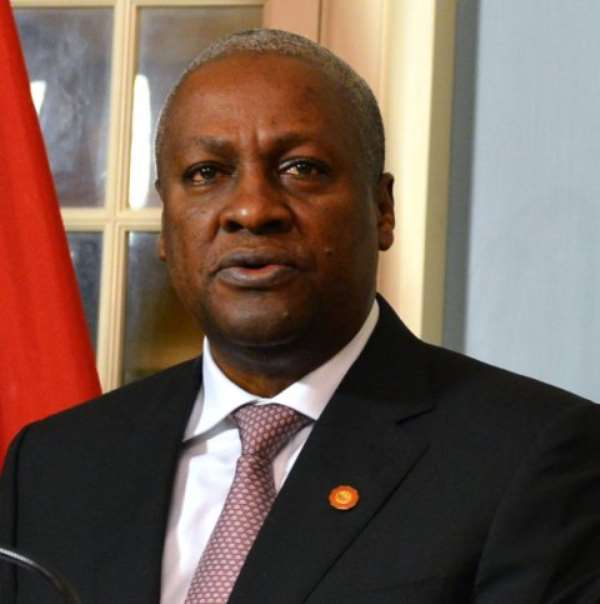 Scarcely a week ago, several National Democratic Congress-sponsored politicians were railing against President Addo Dankwa Akufo-Addo for what they cynically termed as Nana Akufo-Addo's flat partisan refusal to open up many Mahama-constructed hospitals and health clinics dotted all across the country. In other words, the accusation here was that Nana Akufo-Addo and the ruling New Patriotic Party (NPP) were doggedly and religiously hewing to the "Tony Aidoo Doctrine" of gingerly desisting from completing any NDC-sponsored previous projects that would erroneously give voters the impression that, indeed, the Mahama regime notched a lot of worthwhile achievements that ought to be highlighted and even heartily celebrated. With such vacuous accusations, these critics and party hacks claimed that the leader of the National Democratic Congress (NDC) and the former President of the Sovereign Democratic Republic of Ghana had been vindicated in the face of the apocalyptically raging COVID-19 Pandemic.
Maybe these shameless Mahama shills ought to have checked and compared notes with their kleptocratic paymaster, because on Saturday, April 4, when he called the press into his office and decided to offer what he smugly termed as his own personal and original contribution to the critical search for a definitive solution to the Wuhan, China, -originated COVID-19 Pandemic, the former Atta-Mills' right-hand man exposed those Mahama Hospital Propagandists for the veritable charlatans that these scandal-mongering mercenaries are. On Saturday, April 4, Candidate Mahama was talking about the urgent need for the Akufo-Addo-led Administration of the New Patriotic Party to expand many of the major age-old health centers and hospitals located across the country. He did not talk about expanding the legion number of health centers and hospitals that he has been widely alleged by his paid and shameless touts to have constructed across the country, but which a supposedly meanspirited President Akufo-Addo had deliberately and flatly refused to make use of for the collective good of the Ghanaian citizenry at large.
You see, Little Dramani did not talk or bitterly complain about the legion number of hospitals that he supposedly caused to be built under his protracted four-and-half-year watch; for he had practically and absolutely not completed or accomplished any such laudable feat or achievement. Even of the 200 Senior High School physical plant facilities that he promised to add to our national stock of public high schools, by many reliable accounts, the man was only able to build barely 20 percent of the same. The man is simply not wired to be a disciplined and a patriotic and a conscientious hardworking and a selfless nation-building statesman. That most enviable accolade, of course, belongs to President Addo Dankwa Akufo-Addo and, to a quite remarkable extent, former President John Agyekum-Kufuor. Little Dramani is a very lazy and a very cheap manifesto-stealing political crocodile who only thinks about "Me, I and Myself." And maybe sometimes just a little bit about Lordina and their children and the others mothered by a platoon of "wide-receiving" Benedicta Duahs – my profound apologies to Mr. Kennedy Ohene Agyepong and "Mahama Holy Ghost Prophet" Emmanual Badu Kobi.
At any rate, one wonders why the man who continues to pooh-pooh the universally accessible fee-free Senior High School System established by Nana Akufo-Addo had not thought about the expansion of the country's major health centers and hospitals, in view of him having been recently knighted as "Ghana's Ebola Expert" by a bootlicking meal-ticket-chasing nonprofessionally trained diplomat and latter-day self-styled statesman, during the eight protracted years that the infamous "Shit-Bomber" was holed up at Jubilee House with the mysteriously expired President John Evans Atta-Mills. Instead, Mr. Mahama kept building dozens of hospitals and health centers that turn out to have actually been built, in the memorable words of Ghana's former Attorney-General and Minister of Justice, in the miserable museum catalog that is the Moammer-El-Khaddafy-inspired and copycat "Green Book."
They may not want to accept this butt-naked fact of the matter, which is that Mr. Mahama shamelessly plagiarized yours truly, when he recently called for the massive expansion of the country's existing major health facilities. The only problem here was that he was, characteristically, not imaginative and creative enough to have also added the fact that I have been perennially and incessantly calling for the "upgrading" or modernization of these health centers and facilities. You see, Dear Reader, empty buildings, no matter how new or magnificent they may be, have never been known to heal the sick; it is human doctors and the very nurses who Little Dramani has more than amply demonstrated that he has absolutely no respect and use for, who heal and take care of the deathly ill and the disconsolately hurting.
You see, providing Personal Protective Equipment (PPE) to the nurses and doctors at the Korle-Bu Teaching Hospital and the IK Acheampong-constructed Tamale Teaching Hospital, reminded me of Mr. Mahama's rather crappy decision to substitute the distribution of prophylactics or condom and sanitary pads to some of our high school students, not very long ago, for a comprehensive sexuality education program.
*Visit my blog at: kwameokoampaahoofe.wordpress.com Ghanaffairs
By Kwame Okoampa-Ahoofe, Jr., PhD
English Department, SUNY-Nassau
Garden City, New York
April 4, 2020
E-mail: [email protected]