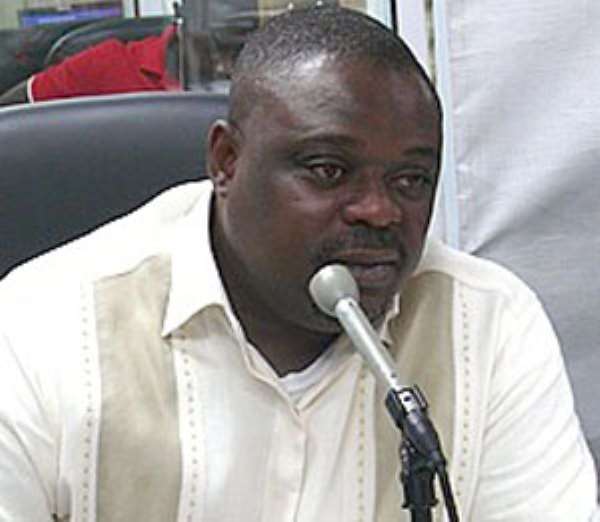 His voice was heard from far and near.
It was a voice that stockpiled insults, arguments and fights.The people of Alavanyo, Kpone Katamanso, Ketu South (NDC's World Bank), Biakoye, Hohoe, Avenor and many more, were never tired of the voice, that bad-mouthed its political arch rivals----the ruling NPP.
In fact, many or most Ghanaians remember Koku with this riveting statement he made during the 2016 December General Elections: "We're [referring to the NDC] in a commanding lead," he said that when the election results were trickling in.
In one of my satirical writings, I described Mr. Anyidoho as a firecracker mouth. He attacked, denigrated and ridiculed his political opponents with delight. So, it came as no surprise, when the loud-mouthed NDC leading member was picked up by security operatives in 2018.
The puzzle
Koku today preaches, unity, peace and harmony.
His arguments have been constructive rather than destructive. He preaches the Good News to all Ghanaians, irrespective of one's political leaning.
And he sermonises like a monk or friar at the Christ the King Church in Accra.This is what puzzles many.
Ghanaian songwriter, singer and broadcaster Jon Germain says:"In Africa as long as you are in opposition, you oppose, even if it's good."
"Good speech, as someone who used to write President Atta-Mills' speeches, I would have written similar speech because it has all the necessary ingredients of the principles of Crisis Communication " remarked the former communications director of the Atta-Mills administration.
On Monday 6, April 2020, Mr. Anyidoho praised President Akufo-Addo after he addressed the nation regarding government's plans to fight the COVID-19 pandemic on Sunday. And as expected, there have been divided opinions.
Did Koku smoke a peace pipe with his opponents?
It must have been. BUT, I also believe his arrest and detention at the police headquarters must or could have accounted for his sobriety. Be reminded, where there's will there's a way. And of course, if we avail ourselves to that element it really happens.
Kafui Dey, award-winning broadcaster and host of National Juniors Challenge-- Ghana's first quiz for Junior High School students in one of such discourse quizzed: "With excessive politicisation can't a man change his point of view without second-guessed?
I couldn't agree with him more.But one could also not lose sight of the fact that some people will always express misgivings if certain things don't sound or seem right to them.
Remember, Apostle Paul had to deal with scepticism in the aftermath of his conversion. Even Ananias who helped restore his sight had doubts as to whether the man who once persecuted the disciples had indeed converted.
Would this stop Koku?
Crickets don't stop making noise. They rather tune up the pitch when one tries to disturb them. Koku is like the Brazilian black Jacobin hummingbird whose high-, pitched sounds have been likened to a cricket.
Appeals to Govt
Apostle Koku Anyidoho has strongly appealed to the Akufo-Addo government to take advantage of the COVID-19 pandemic to give special roles to the military to instil discipline in the country as Ghanaians have become slaves to the practice of democracy.
According to him, the use of the military personnel by the President to clean up the gutters in Accra as it used to be in the era of former President Jerry John Rawlings is the surest way to keep the environment clean as the civilians have disappointed the country with regards to sanitation and hygiene.
He laments how Ghanaians through the passage of the 1992 constitution which gave birth to freedom of speech have rather enslaved the country.
Koku recalled the days of Salifu Amankwa at Circle and the role he played to beautify the place.
He said Ghanaians spoke against his work of instilling discipline and keeping Kwame Nkrumah Circle clean and when he was eventually taken out of Circle, 'the place has now become a dumping site'.
"What I'm happy about is, the military personnel are cleaning the gutters . . . we drove away Salifu Amankwa from Circle and now Kwame Nkrumah Circle has become a dumping site. So, we have become slaves to our freedom of speech," he stated.
Mr. Anyidoho has added his voice to the President's decision to use the military to clean up the gutters.
He further encouraged the president to find a special role for the military to play.
And if you think that Paul (Koku) is still Saul, or remain unrepented, take another deep dive into this paragraph.
The former staunch critic of the Akufo-Addo government now offers advice. He suggested the ruling party adopt some military tactics to discipline people in the country as well as issue and order that there must be a 6-month prison term for both owners of houses without toilet facilities and tenants occupying them.
Indeed Koku has changed and he's changed for better. Here him again as he concludes his sermon on the mount.
"Going forward, anybody who will build a house without toilet facility and those who will rent those houses must be punished. If we don't begin to adopt some military tactics and discipline in this country, we aren't going anywhere. The owner of the house without toilet facility and the tenant who goes for such a house must be jailed for 6 months."
By Gordon Offin-Amaniampong