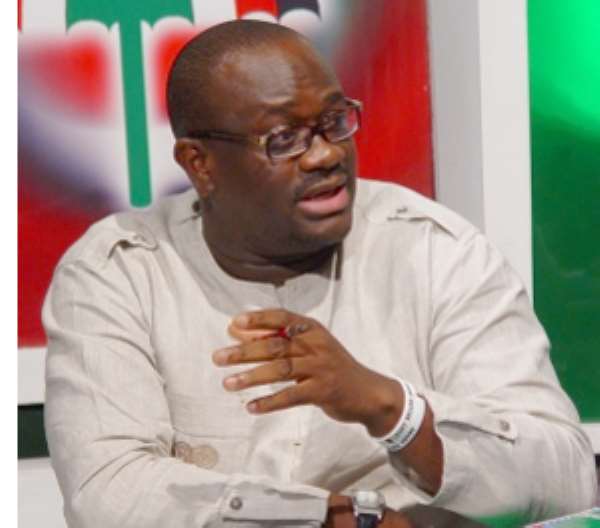 Stan Dogbe
It is quite obvious that he takes himself very seriously; but if you were to ask his uncle-in-law, Prof. Thompson Kofi Sarkodie-Gyan, the University of Texas, El-Paso, Electrical Engineering and Robotics specialist, what he thought about the husband of his very prominent niece, Lordina, he would tell you a totally different story altogether. The German-educated scientist tells the harrowing story of how Francesca, the woman introduced to him by the former President savagely dented his sense of decency when, during the initial stages of their conjugal relationship, Francesca would tease him that Little Dramani was much better in bed than his uncle-in-law.
You see, what stunned and scandalized the Ampomah-Takyiman Township native was far less the fact of whether, indeed, the Bole-Bamboi native was more "bedmatically" exciting than he was but, rather, the fact that Little Dramani would so maliciously slight him as to introduce to him as wifely material woman who did not seem to place much premium on conjugal integrity or chastity or marital fidelity. Well, as fate was to have it, Francesca would soon vacate their home and marital bed, initially, a couple or so times every week, without the courtesy of any tangible explanation or reasons for her whereabouts during these abrupt feline moments of absence.
Kofi Sarkodie-Gyan would soon discover to his great shame and horror that Francesca had been seeing the white-British driving school instructor who was supposed to be teaching her how to drive, so as to enable Francesca to quickly and readily find her way about the British cosmopolis. She would soon totally vanish from his life to consort with Mr. John Bull. It was these notes from our conversation a couple of weeks ago that I was looking to pick a juicy bit or two, to spice up my next soupy take on the personality profile of the former President, at least as the latter's uncle-in-law had come to envisage the same, when I came across this rather characteristically absurd news article captioned "Expand 37 Hospital, Build Noguchi-Like Centers Up-North – Mahama" Classfmonline.com / Ghanaweb.com 4/4/20).
And just who was Candidate John Dramani Mahama so casually presuming to instruct? President Addo Dankwa Akufo-Addo, of course! I couldn't help but wonder whether the Bole-Boy had been making himself lightheaded on some powdered "Coca-Cola" – the Dear Reader ought to know what I am talking about – or, perhaps, even a rocky one. I mean, wasn't it only about five years ago that the former President's own infamous Presidential Staffer Plenipotentiary and Extraordinary, Mr. Stanislav Xoese Dogbe, who also doubled as the Mahama Communications Director that Mr. Alban SK Bagbin, the longest-serving parliamentarian on the ticket of the National Democratic Congress (NDC) and presently the Second-Deputy Speaker of Parliament, described as the de facto President of the Sovereign Democratic Republic of Ghana, all the while that most Ghanaian voters who had cast their ballots for the man, actually thought that it was Mr. John Dramani Mahama who was actually ruling the proverbial roost, was widely reported to have mercilessly mauled a young radio news reporter with the state-owned Ghana Broadcasting Corporation (GBC).
So, it is not clear to me precisely why the former President would have the nation's foremost military hospital expanded under the farcical pretext of facilitating the emergency readiness of the nation's healthcare system. And, by the way, I almost forgot to mention the fact that in that brutal and epic and mauling of the young GBC reporter, it was Dr. Edward Kofi Omane-Boamah, then the Mahama-appointed Communications Minister, who was the umpire, according to nearly every media account of the incident. Thus, in desperately, actually cynically, appealing to the government of his successor to expand the World War II-era British-built 37th Military Hospital into at least twice its present size, it is not clear whether Little Dramani wants to create more room and space for Mr. Dogbe to be able to crush even more reporters and media operatives perceived to be pro-NPP or simply anti-NDC with the cruel efficiency of a nuclear bomb launcher.
It is very doubtful that Mr. Mahama could really be meaning what he may appear to be telling the Akufo-Addo-led Administration of the New Patriotic Party and the general Ghanaian citizenry at large.
*Visit my blog at: kwameokoampaahoofe.wordpress.com Ghanaffairs
By Kwame Okoampa-Ahoofe, Jr., PhD
English Department, SUNY-Nassau
Garden City, New York
April 4, 2020
E-mail: [email protected]