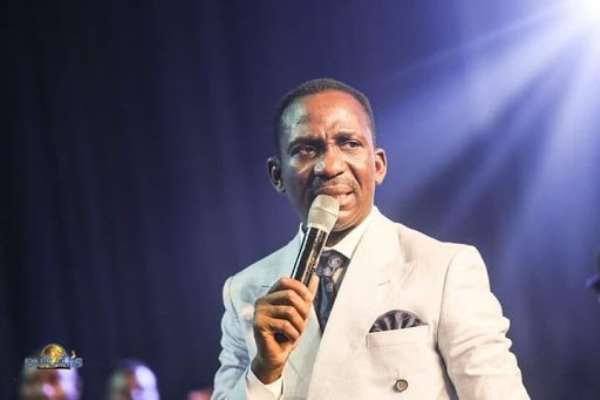 Rev. Dr. Paul Enenche
Before the Coronavirus pandemic took the world by storm at the end of 2019, a few scientifically-minded people like Bill Gates had warned about the possibility of an epidemic of monstrous calamity evading the universe sooner than we might expect it. But the nations of the world failed to heed to those warnings in good time. By 6 March 2020 when I wrote this, the number of casualties the invading epidemic had felled like logs of wood was still increasing by the day across nations.
By that sixth day of March, 1,276,177 cases of infection had been reported world-wide with 69,509 deaths confirmed. 336,851 cases and 9,624 deaths were reported in America. In Spain, there were 131,646 reported cases and 12,641 confirmed deaths. In Italy, there were 128,948 reported cases and 15,887 confirmed deaths. In Germany, 100,123 cases were reported and 1,584 deaths were confirmed. In France, 92,839 cases were reported with 8,078 deaths confirmed. In China, 81,708 cases were reported with 3,333 deaths confirmed. In Iran, 58, 226 cases were reported with 6, 603 deaths confirmed. In the UK, 47, 806 cases were reported and 4,934 deaths confirmed. In Turkey, 27,069 cases were reported with 574 deaths confirmed. In Switzerland, it was 21,100 cases and 715 deaths.
In Belgium, 19,691 cases and 1,447 deaths were reported. In Netherlands, it was 17,851 cases reported and 1,766 deaths confirmed. In Canada, 15,512 cases were reported and 280 deaths confirmed. In Austria, reported cases were 15,512 and 280 deaths were confirmed. In Austria, 12,051 cases were reported and 204 deaths confirmed. In Brazil, 11,308 cases were reported and 488 deaths confirmed. In Portugal, reported cases were 11,278 and 295 deaths. In South Korea, 10,331 cases were reported and 189 deaths confirmed. In Israel, the number of reported cases was 8,792 and 52 deaths were confirmed. In Sweden, 6,830 cases were reported and 401 deaths confirmed.
In Russia, there were 7,297 reported cases and 49 deaths confirmed. In Australia, the reported cases stood at 5,826 with 41 deaths. In Norway, reported cases were 5,831 and 71 deaths confirmed. In Ireland, 4,994 cases were reported with 158 deaths confirmed. In Denmark, 4,369 cases were reported with 179 deaths confirmed. In India, there were 4,339 reported cases and 118 deaths confirmed. In Japan, reported cases were 3,654 and 85 deaths. In Pakistan, the number of reported cases was 3,397 with 53 deaths confirmed. In Saudi Arabia, 2,524 cases were reported with 34 deaths confirmed. In United Arab Emirates (UAE), reported cases were 1,799 with 10 deaths confirmed. In Iraq, reported cases were 961 with 61 deaths confirmed. In Kuwait, reported cases were 556 and 1 death confirmed. And in Jordan, there were 345 reported cases and 5 confirmed deaths.
Back in Africa, there were 1,655 reported cases in South Africa, with 11 confirmed deaths. In Egypt, the number of reported cases was 1,173 with 78 confirmed deaths. In Morocco, 1,205 cases were reported with 72 deaths confirmed. In Cameroon, cases reported were 650 with 9 deaths confirmed. In Tunisia, 574 cases were reported with 22 deaths confirmed. In Ivory Coast, 261 cases were reported with 3 deaths confirmed. In Niger Republic, reported cases were 184 and 10 confirmed deaths. In Kenya, it was 142 reported cases and 4 confirmed deaths. In Ghana, number of cases reported was 214 and 5 confirmed deaths. And in Nigeria, reported cases were 232 with 5 confirmed deaths. All over the world, people who contracted the virus were falling sick suddenly and dying.
Ironically, the pandemic created new horizons and new visions for political and religious leaders and followers across the globe, some bad, some, not so bad. First was the imposition it made on the economy of every country of the world. Suddenly, national budgets were revisited and modified to accommodate the crushing effects of the pandemic. Schools, colleges and universities, churches, mosques and markets were all shut down. Most transportation systems, including airports were either shut down or they operated minimally. Workplaces were closed and everyone was asked by government to stay home in practical isolation. Streets were deserted, making cities and towns that once buzzed with life look like ghost towns completely deserted even by animals. People were asked to work from home if they could.
On another level, people waxed songs and wrote poems about the obnoxious epidemic which British Prime Minister, Boris Johnson, named 'the invisible killer'. They made some money that way. By the same token, some men and women who would normally not want to spend time with their spouses and children – career men and women who considered their work more important than their families – were forced to stay home and for once know the joy of family life. Many women in Africa who felt their husbands were not giving enough attention to them and their children secretly prayed that the lockdown remained long enough to teach their husbands a lesson or two about family and its benefits.
At the political level, the pandemic bridged the yawning gap between opposing political parties in a way no one would have imagined possible. In it, politicians of all shades and various persuasions found a common enemy. And they became 'united' in the war against the rude invader of their families and their land. Money was released for different brands of medical equipment to combat the virus and to stop it spreading quickly. Those who stayed home but could not work from home, and therefore had no food to eat, were given subsidies by government and good natured philanthropists. For once, there was something that could be defined as human cooperation across the globe, pointing to the possibility of a global peace that can soothe the wounds of people and nations in the absence of greedy politicians.
If there was any expression that eloquently captured the times, it was a poem by an anonymous writer which I first heard Rev. Dr. Paul Enenche read during one of his church sessions. I then edited it and went ahead to share it in my WhatsApp and Face Book platforms among believers of the Gospel of Christ.
ONLY ONE PLAGUE
Only one plague – and the world stood still
Only one plague – and the world's governments were humbled
Only one plague – and the World Powers were confused
Only one plague – and everyone was scampering for safety
Only one plague – and all the world economy was shut down
Schools were shut down and streets were deserted
Only one plague – and Mecca sent back worshippers
Jerusalem turned back her tourists
And the Vatican City closed down
Just one plague – Churches were shut down
Mosques were closed up
All sports were postponed
Clubs were sealed
Only one plague
And the entertainment industry groaned mournfully
Just one plague: "don't shake hands again"
"Don't hug each other again"
"Step away a meter's space"
Just one plague
Before the plague, nations threatened nations with war
And countries were bullying countries
There was war in Syria.
There was revolt in Iran.
There was crisis in Turkey.
There were protests and political unrest
But the plague surfaced
And quieted everything.
Wars ceased for the plague.
Unrest stopped for the plague.
Olympics shut down for the plague.
Everybody ran into their houses.
Everyone hid away from just one plague.
What then would men do about
Plague upon plague, upon plague?
When the trumpet sounds
And Jesus has come and gone
With his own blood-washed saints
Welcome to a dress rehearsal!!!
Asinugo is a London-based journalist, author of 'The Presidential Years from Dr. Jonathan to Gen. Buhari' (Vol. 1 & 2) and Publisher of Imo State Business Link Magazine (imostateblm.com)