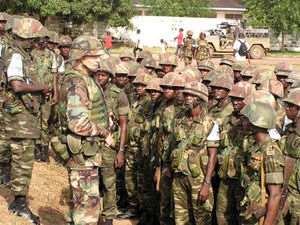 The Force Commander of the United Nations Peacekeeping Mission in the Democratic Republic of Congo (MONUC), Lt Gen Babacar Gaye, has lauded the Ghana government and the Ghanaian troops for their efforts at bringing lasting peace to DR Congo.
Addressing the troops during the Medals Presentation Parade of GHANBATT 9, he said the UN would continue to rely on Ghana as one of its major allies because of the professionalism, dedication and commitment of its personnel to duties in war-torn countries.
A statement issued by the Public Relations Directorate of the Ghana Armed Forces said some military observers from other nations joined the Ghanaian troops to receive the prestigious UN medals from the Force Commander.
It said Lt Gen. Gaye recounted Ghana's participation in UN Peacekeeping Operations in the then Republic of Congo (ONUC) about 45 years ago and added that there was nothing as rewarding as being recognised for helping another country to come out of its problems.
"The Ghanaian Contingent Commander, Brig Gen. Carl Modey, who is also the Commander of MONUC Western Brigade, and the Commanding Officer of GHANBATT 9, Lt Col Francis Ofori, received special commendations from the Force Commander for the efficient and professional manner in which they conducted their duties in the mission area," the statement said.
It said a delegation, led by the Deputy Minister of Defence, Mr William Ofori Boafo, represented the Ministry of Defence at the Medals Presentation Parade.
The delegation also paid courtesy calls on Ghana's Ambassador to DR Congo, Mr Iddrisu Biriya, and the UN Secretary General's Special Representative (UN SGSR), Mr William Swing.
According to the statement, at an all-ranks durbar, Mr Boafo entreated Ghanaian troops to remain focused and disciplined and abide by UN regulations so that they could continue to uphold the good name of the Armed Forces and Ghana, adding that it was the sum total of individual and collective enthusiasm and initiatives which brought about total success.
"The delegation, which included Group Capt. E. S. Nakobu, the Director at the Air Force Headquarters, and Col J. A. Okai, Director at the General Headquarters, has since returned home," it added.