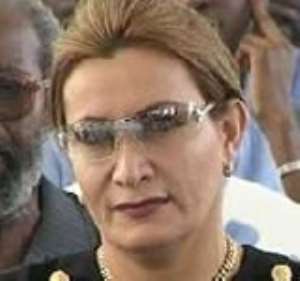 In what many in the ruling party will describe as another gruff talk, absentee former advisor to President Kufuor, Ms Giselle Yajzi has set June 20th this year as the day he will present evidence of Presidential wrong doing she leveled President Kufuor in the Hotel Kufuor transaction.
In the latest letter to her local collaborators, the Truth Foundation, Ghana forwarded to the Heritage, Ms. Yajzi, who had adopted great fuzziness in her earlier encounter with the Ghanaian media on the hotel transaction promised to provide all the details of the hotel transaction to both Ghanaian international media at Hotel Astoria in New York on the 20thh of June this year.
"I Giselle Yajzi invite every honest Ghanaian, journalist or not, international Transparency in Ghana, on June 20 at 5: pm, in New York Hotel Astoria, to a press conference, "her e- mail to the TFG stated.
The former presidential Economic Advisor in the e- mail to the TFG also promised that apart from making available in the evidence on the hotel in question, at the said press conference, she will also provide other documents relating to what she described as illegal acquisition of wealth by the president.
" … I will be presenting every evidence against President John Agyekum Kufuor and his oldest son with Theresa Kufuor, on the hotel negotiation, and every document in many other acts of corruption that the President has committed", the letter said.
Ms. Yajzi, ex- advisor to President Kufuor and now a gritty foe stormed the nation's air waves last year with breathless allegations against the President in the acquisition of the hotel property belonging to Chief Kufuor, the President's son.
According to Ms Yajzi in her earlier encounter with the Ghanaian media, the real owner of the hotel is the President himself and that he just used his son as a front.
As the debate on the hotel heated up, Ms Yajzi promised to jet down to Ghana to provide her' killer' evidence against the President to the Ghanaian media.
However, in a very dramatic fashion, she disappeared from the Ghanaian media radar following a move by the Commission of Human Rights and Administrative Justice to investigate the matter and clear all the fog surrounding the hotel acquisition.
CHRAJ has recently released its report on the hotel issue clearing the president of acts of corruption, conflict of interest or any wrongdoing and cited paucity of evidence as a major drawback to a successive investigation.
But in a seeming change of mind or another deceptive and venal attempt to the Ghanaian media yesterday in an e- mail forwarded to the Heritage via her collaborators, Ms Yajzi promised to provide evidence to all the allegations she had earlier leveled against the President.