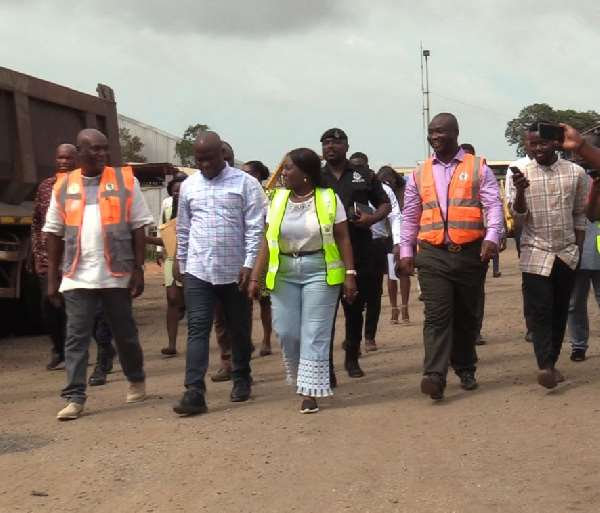 Towards the fight against COVID-19 pandemic, the president of the Republic of Ghana, Nana Addo Dankwa Akufo-Addo decreed an official order for a fourteen days partial lockdown of some parts of the country. The areas affected by the partial lockdown are places identified as affected or likely to be affected or likely to be the epicentre of the novel Coronavirus.
In all, twenty-six (26) MMDAs within the Greater Accra have been affected. Some of these areas include; Accra Metropolis, Tema Metropolis, Tema West, Kpone Katamanso, Adentan, Ashaiman, Ga West, Ga South, Ga East, Ga Central, Ablekuma Central, Ayawaso West. In the Greater Kumasi Metropolitan, a total of fourteen (14) MMDAs have been affected by this partial lockdown. They include but not limited to Kumasi Metropolis, Asokwa, Suame, Old Tafo, Oforikrom, Ejisu, Bosomtwi, Afigya-Kwabre South.
A careful look at these 26 MMDAs in Greater Accra and 14 MMDAs in the Greater Kumasi Metropolis would reveal that, these are areas with high volumes of indiscriminately disposed waste. The indiscriminate disposal of waste in these areas have caused the country to lose billions of Cedis and dollars.
The solution to this poor waste disposal and the compounding problem of poor sanitation in these areas have been a choke point to all governments in the fourth republic. All governments of the fourth republic including President Akufo-Addo have set definite time frames to curbing this poor sanitation menace. In short, none passed the test of time.
The Government, Sanitation Ministry and its Employees, other sanitation agencies contracted by government to help keep these cities clean and the greatest of all the Citizenry have failed in the fight. Though the priority was set, none did the right things to ensure that the set out priority yielded fruits. Our lackadaisical attitude towards cleanliness and proper sanitation management practices have left us choked with filth.
However, I am devout to recommend that, the Sanitation Ministry and all its contracted agencies responsible for managing Ghana's waste must take advantage of the fourteen days partial lockdown of the total forty MMDAs in Greater Accra and Greater Kumasi to totally wipe off the filth in these areas. They must be challenged to make fortune out of this lockdown without sitting aloof and doing those same old things that yielded no better results.
Owing to the irresponsible and morally degraded character of some of the citizenry, especially those who will always make all efforts to make our towns and cities dirty by their personal daily activities, some stringent rules should be set out and communicated as soon as possible to all persons resident in these areas under lockdown or visitors who may be coming in after the lockdown.
Setting rules without providing the necessary equipment or facilities to aide the responsible disposal of waste will only be an exercise in futility. The Sanitation Ministry must;
1. Immediately assemble all available human and material resources for the purposes of undertaking a swift cleaning exercise within the period of lockdown to make Accra and Kumasi as clean as we've always envisioned. Sacrificing some personnel to work 24 hours 7 days in chalking success of the exercise is an act of humanity, divinity and patriotism.
2. Immediately provide adequate and necessary waste bins for the citizens to dispose off waste/rubbish after the lockdown. These waste bins should be available at every 50-100meters walking distance within the Greater Accra and Greater Kumasi Metropolis, especially those areas under the partial lockdown. Beyond government financing of this waste bins project, CSOs and other individuals could equally support its funding. We must, within the shortest possible time, make it another priority, pursuing same concurrently with the fight against Coronavirus. After the fight against Coronavirus still await the deadly Cholera which has wiped and is still wiping thousands of people.
3. Immediately engage the services of some citizens as Quality Waste Practices Enforcement Personnel (QWPEP) to oversee the adherence of these waste management rules communicated to the citizenry. To maximize benefits whilst minimizing additional costs, personnel already enrolled as National Service Personnel, NABCO Personnel or Youth Employment Beneficiaries could be used for this taskforce exercise.
To conclude, the Sanitation Ministry and all other ministries should begin to reason out some innovations to take advantage of the fourteen days partial lockdown of some 26 and 14 MMDAs in Greater Accra and Greater Kumasi Metropolis respectively. If the Sanitation Ministry is unable to make Accra the cleanest city in West Africa within these lockdown days, then, the days after the lockdown will never be a possibility for such a vision to come to pass.
BY Reindolf Amankwa
Member, CTI-Middle Belt