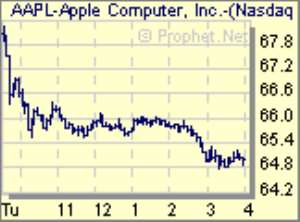 Analysts expect Apple Computer's new MacBook to be a significant demand driver for the company, leading to market share gains and possible earnings upside in the near future.
This morning, Apple (nasdaq: AAPL - news - people ) announced and shipped its Intel (nasdaq: INTC - news - people )-based MacBook, which replaces the iBook as Apple's entry-level laptop and is the fourth of Apple's five Mac products to migrate to Intel. MacBook is 20% thinner than its predecessor and, according to Apple, five times faster.
The new product also includes a $100 price hike, with prices starting at $1099 versus $999 for the iBook.
This is a positive move that should help drive margin improvement, according to Credit Suisse analyst Robert Semple, who maintained an "outperform" rating and $90 price target on Apple shares.
"The MacBook is among Apple's most competitively priced products and arrives just in time to meet the US education buying season, traditionally one of iBook's best customer segments, " wrote Semple in a note to investors.
"We believe the MacBook is the single most important Mac to transition to Intel, mainly due to the continued secular shift to mobile computing," the analyst added.
With 80% of its Macs now ported to Intel, Semple believes Apple is once again in position to drive PC market share gains for the foreseeable future.
For the June quarter, the analyst estimates Mac shipments will increase 11.5% quarter-on-quarter to 1.24 million, which he said could prove conservative if Apple has enough supply of its MacBooks to meet customer demand.
Piper Jaffray analyst Gene Munster also maintained an "outperform" rating on Apple, believing the MacBook launch bodes well for the June quarter.
"It appears Apple has built up a supply of the MacBook before announcing it," wrote the analyst in a report. "In other words, we don't believe June will be another transition quarter."
After calling Apple stores this morning, Munster concluded that the MacBook is widely available, with the lead times on Apple.com indicating ship times in one to five business days.
Unlike the Credit Suisse analyst, however, Munster was disappointed by Apple's price hike on the new product, which he said is intended to drive market share gains at optimal profitability.
"We believe Apple could have gained more market share if they would have maintained or lowered the price of the MacBook," he said.
Still, the analyst believes the Street's June quarter revenue estimate of $4.42 billion now appears conservative, though at this point, he noted, it is too early to determine what the magnitude of any upside could be.