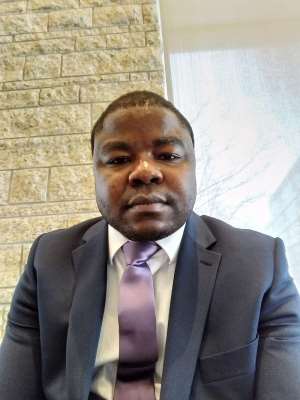 Author: Prince Akyereko
I know as a Ghanaian, you require all the decency, courtesy and rights that you deserve on this earth. I get it, people. However, please remembers coronavirus does not know your right and does not know your class in the society. Folks, stay at home. I can't stress this better any more than this. Spain has told doctors not to accept anyone above 80 in the Intensive Care Unit (ICU) anymore. In Some countries, anyone above 65 is not being treated at the moment. Doctors have been told to prioritize healthcare delivery and make decisions on who to put on ventilator or who should be admitted at the Intensive Care Unit (ICU) at the moment and in future. What do all these mean to you?
All these challenges, confronting police or soldier, I know my right and fighting with security people in lockdown areas in both Accra and Kumasi can end up killing you or others. Remember, the policeman or soldier you are confronting can also give you the virus and you too can give to the police or the soldier. So why do it in the first place?
I don't know where you come from and which healthcare system you have in your hometown, city or village. I will use some towns or communities in my district to illustrate what the future will look like in Ghana if we don't stop the virus now by practising social distancing, wash our hands frequently, use hand sanitizers, stay at home and only go out for essentials.
I am assuming that you know Fiapre and Nsoatre in the Sunyani West District, all current Bono Region, formerly Brong Ahafo region. In these communities, we don't have modern-day hospitals of our own. We have clinics. The people in these two towns depend on both Sunyani and Berekum hospitals for the most serious health care issues. The health care system in Nsoatre with a population of 80,000 or more can probably admit 50 or at most 100 people at the same time. This healthcare facility does not have ICU department. No ventilators. All the tools required in a modern-day ICU department to treat acute coronavirus patient. What this means is that, if both Nsoatre and Fiapre, God forbids, record 200 or more cases and in acute situations, they will be rushed to either Sunyani or Berekum. Assuming that by the time you get to Sunyani, God forbids, Sunyani also has 1000 cases. All the ICU beds are full. You go to Berekum, same situation. Kumasi also has similar cases if not more and occupying Komfo Anokye.
What will you do and handle your love one's cases?. It means just waiting to bury your love which probably you won't be allowed in the burial place, because of fear of the virus. It is the same situation happening right now in Italy, Spain, UK and New York. For the first time, I saw people queuing in New York Hospital in order to get access to the emergency room in the hospital. Death ones store in cargo fridges. It is incredibly overwhelming. Health Care system all over the world were not design for this type of pandemic.
This is the future that awaits us if we don't act responsibly now as individuals and support government effort to fight the virus now. That is why am urging you to stay home and follow all the guidelines provided by your public heath authorities. Stay home, wash your hands, use hand sanitizers, practice social distancing and only go out when necessary.
By Prince Akyereko