East Bay's Lee, other lawmakers arrested during DC rally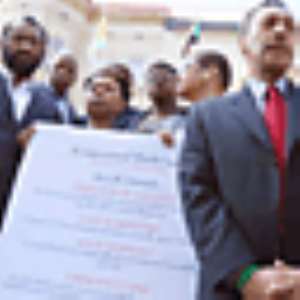 WASHINGTON -- Rep. Barbara Lee of Oakland was among seven members of Congress who were arrested today when they blocked the front entrance at the Embassy of Sudan in Washington, D.C.
Today's protest and civil disobedience was designed to embarrass the Sudan's military dictatorship for its ongoing genocide in the troubled Darfur region and to build public support for a United Nations peacekeeping mission there.
"The world stood by when nearly one million people died in Rwanda," Lee, a Democrat, said before her arrest by Secret Service agents. "The most that our country unfortunately did was say 'I am sorry,' after the fact. Now, over 400,000 people have died as a result of the genocidal actions of the Khartoum government against the people of Darfur ... Not on our watch will we allow another genocide to take place."
It was the second recent protest and civil disobedience at the Sudanese Embassy involving the arrest of members of Congress. Rep. Tom Lantos, D-San Mateo, was among five members of Congress arrested April 28 outside the embassy.
Lee chairs the Congressional Black Caucus, which includes 43 African American members of the House and one member of the senate, Sen. Barack Obama, D-Illinois.
The other members of Congress arrested today include Rep. Mel Watt, D-N.C., and Congressional Black Caucus members Rep. John Lewis, D-Ga., Rep. Al Green, D-Tex., Delegate Eleanor Holmes Norton, D-D.C)., Rep Eddie Bernice Johnson, D-Tex and Rep. Gwen Moore, D-Wisc..
A peace treaty was signed May 5 between the Sudanese government and Darfur's largest rebel group, but two other rebel groups refused to sign. Meanwhile, more than 2 million civilians remain displaced from their homes and continue to be vulnerable to attacks by armed militias. In addition, the UN World Food Program recently cut rations in Darfur to 1,050 calories per day.
"Already too many, far too many people have died or been displaced, have been raped, villages have been burned down," Lee told a crowd of protesters. "The people of Darfur deserve to return home."
Lee and her colleagues on the Congressional Black Caucus called today for a specific plan of action:
-- An immediate stop to the violence against the people of Darfur by the government of Sudan and its Janjaweed militias;
-- A Chapter 7 UN peacekeeping mission to assist 7,200 African Union peacekeeping troops in Darfur;
-- Protection of civilians who remain vulnerable;
-- Accountability for government officials and Janjaweed responsible for war crimes and genocide; In addition, Lee and her colleagues urged President Bush to persuade the government of Sudan to release its 300,000-500,000 metric tons of grain reserves to feed the starving people of Darfur and to take immediate measures to restore security so that the refugees can return to their homes.
Lee, who has traveled twice to Darfur with congressional colleagues, is the most senior Democratic woman on the House International Relations committee, where she serves on the Africa Subcommittee. She has been a leader in the movement to divest state pension funds and university endowments from companies doing business in Sudan.
"I saw the desperation in the eyes of the people. I saw the violence, the results of the violence, the results of the genocide," Lee said. "We saw and talked with people who wanted to go home. We saw the gloom and felt the pain and suffering of what is taking place."
After she was taken into custody, Lee was transported to a nearby Metropolitan police headquarters in Washington, D.C. She was held for about two hours before being released. She was charged with the misdemeanor offense of trespassing and paid a $50 fine.
"We are going to put the squeeze on the Sudanese government until they stop this horrific genocide," Lee said.