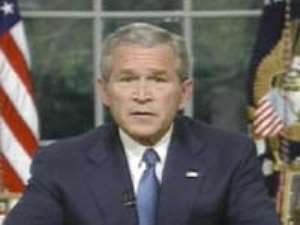 WASHINGTON - The Senate rejected a call Tuesday to secure the nation's borders before tackling other immigration-related concerns such as citizenship for millions of men and women in the country illegally, a victory for President Bush and supporters of a comprehensive approach to a volatile election-year issue.
The vote was 55-40 against a proposal by Sen. Johnny Isakson, R-Ga, who said that anything less than a border security-first approach amounted to "a wink and a nod one more time to those who would come here" unlawfully.
Republican and Democratic supporters of the sweeping Senate bill said Isakson's approach would be self-defeating and derail the approach that Bush backed in Monday night's prime time speech from the Oval Office. "We have to have a comprehensive approach if we're going to gain control of the borders," said Sen. Edward M. Kennedy (news, bio, voting record), D-Mass.
Eager to blunt any political fallout from opposing Isakson's proposal, the bill's sponsors countered with an alternative of their own. Backed by Sen. Ken Salazar, D-Colo., it said immigration changes envisioned in the legislation could proceed if the president declared they were in the national security interests of the United States.
The Senate cast its first votes on the immigration bill as Bush renewed his call for Congress to act. "The objective is, on the one hand, protect our borders; and, on the other hand, never lose sight of the thing that makes America unique which is, we're a land of immigrants and that we're not going to discriminate against people," he said at a news conference with Australian Prime Minister John Howard.
Bush drew continued criticism from House Republicans for his speech, and the White House sought to emphasize the border security elements of the president's plan.
"This is going to be a tremendous enforcement support partnership," U.S. Border Patrol Chief David Aguilar told reporters at the White House, anticipating the deployment of up to 6,000 National Guard troops to states along the Mexican border.
"We can certainly do what is asked by our commander in chief," added Lt. Gen. Steven Blum, National Guard Bureau Chief.
Blum, Aguilar and others stressed that National Guard forces would function in support roles, leaving front-line law enforcement against illegal immigrants in the hands of federal Border Patrol agents.
Republicans expressed support for new attempts to secure America's porous borders, but they rebelled against another element of what Bush calls a comprehensive plan to alter immigration laws.
"Thinly veiled attempts to promote amnesty cannot be tolerated,' said Rep. Tom Price, R-Ga. "While America is a nation of immigrants, we are also a nation of laws, and rewarding those who break our laws not only dishonors the hard work of those who came here legally but does nothing to fix our current situation."
Any legislation that emerges from Congress will eventually come from House-Senate negotiations.
But first, the Senate had to act, and there, Bush's speech won praise from Republicans and Democrats alike lining up behind long-stalled legislation.
Sen. Mel Martinez, R-Fla., said he and other supporters had the support needed to defeat any crippling amendments offered by critics. Bush's speech "solidified some votes," he told reporters.
"The president gets it," added Sen. Dick Durbin, D-Ill.
Behind the rhetorical lovefest lay political calculations — politicians of both parties stressing their election-year credentials as tough on illegal immigration in an era of terrorism.
Still, the impact on the Senate floor was to demonstrate support for legislation that combined several elements — toughening border control, creating a new guest worker program and opening the door to eventual citizenship for most of the estimated 12 million illegal immigrants already in the country. The same bill includes provisions to toughen enforcement of laws against the hiring of illegal workers by businesses.
The centerpiece of Bush's speech Monday night from the Oval office was his announcement that as many as 6,000 National Guard troops would be dispatched, in coordination with governors, to states along the Mexican border to provide intelligence and surveillance support to Border Patrol agents. The Border Patrol would remain responsible for catching and detaining illegal immigrants.
"We do not yet have full control of the border, and I am determined to change that," the president said.
Still, Bush insisted, "The United States is not going to militarize the southern border."
While much of the advance focus on Bush's speech was on border security — a major issue for conservatives — the president's comments on possible citizenship for illegal immigrants were more explicit than earlier remarks and showed an effort to appeal to moderates and business owners who favor liberalized immigration laws.
"Some in this country argue that the solution is to deport every illegal immigrant, and that any proposal short of this amounts to amnesty. I disagree," he said.
"It is neither wise nor realistic to round up millions of people, many with deep roots in the United States, and send them across the border. There is a rational middle ground between granting an automatic path to citizenship for every illegal immigrant, and a program of mass deportation."