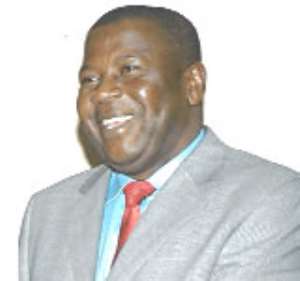 The Asafo-UTC Interchange project in the Ashanti regional capital, Kumasi, scheduled for completion by next month might suffer further delays, the Chronicle can say.
The project, which was supposed to originally to have been completed in 18 months, is in currently its 27th month and indications are that the June 2006 deadline would not be met.
Work on the project is now at a rather slow pace with only 55 per cent completed. As at the end of April, the contractors had done only one per cent as against the nine per cent they were supposed to execute.
Following this unacceptably long delay, the contractors, Sarroach Granulati Gelfi J.V, have incurred the displeasure of Vice President Alhaji Aliu Mahama, who recently inspected the work on the project.
The glaringly disappointed Veep has consequently ordered the Department of Urban Roads to stop any further payments to contractors until they show seriousness in the execution of the project.
He said the delay was a source of worry to the government, and directed that further delays must be avoided.
Alhaji Mahama said the government was disappointed with the situation at the project site.
According to him, the project was dear to the hearts of residents of Kumasi and must not suffer any further delays.
"We have to take the bull by the horn and get the contractors to work. I do not think we should joke over this: the job is suffering and the people are also suffering," the Vice President bemoaned.
He said the continued delay was frustrating government's efforts at fulfilling its promises to the people.
The Italian contractor is faced with cash flow problems. According to the Resident Engineer, Mr. Edward Awotwe, there was no money to procure materials for the job.
Against the disclosure by Mr. J.O Amoo- Gottfried, the Kumasi metro Urban Roads Engineer, that the government has made full payment on schedule to the contractors and that the government does not owe the contractors, it is alleged that the contractors have engaged in another project in Takoradi with the aim of raising money there to fund the Asafo project in order to meet the deadline.
As a result of the situation, Veep Aliu Mahama has directed that the department of urban roads to arrange a meeting with the contractors and the consultants, HAG Consult, as a matter of urgency, to solve the problems facing the contractors and impending the progress of work.
The Vice President said if it became necessary for the government to pay monies directly to certain companies for the supply of materials for the contractor, it was prepared to do so to ensure efficiency in the execution of it's project.
Meanwhile, the project site is virtually deserted by workers who have cast a vote of no confidence in their employers. They are complaining of non- payment of salaries and poor conditions of service.