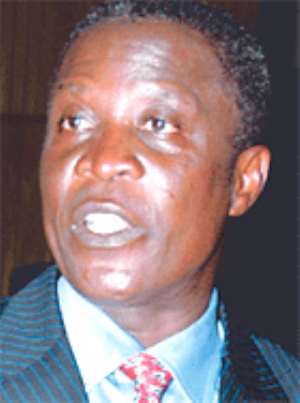 Finance and Economic Planning Minister, Kwadwo Baah-Wiredu, is daring critics who hold alternative views and figures on government's economic management, as well as alternatives to fuel pricing policies, to a debate.
Mr. Baah Wiredu is disputing the view that increases in fuel prices under the current administration had been unprecedented.
According to him, assuming the present regime raised prices of petroleum products by 500 per cent from 2001 to date, the past regime increased prices by 3,200 per cent over the same five-year period.
He also reminded critics that the minimum wage was increased from 2,900 in 2001 to 16,000 cedis within a period of five years, representing an increase of 550 per cent.
The Finance Minister has therefore challenged critics who have figures contrary to those of the government, to compute their figures and present them to the public for an open debate.
Mr. Baah- Wiredu stated that the 2006 budget statement and economic policy of the government targeted 26 trillion cedis as the estimated government revenue, with taxes from petroleum products contributing 4.6 trillion cedis, representing 15 per cent.
According to him, the amount of 8.2 trillion cedis was allocated to the educational sector, adding that more was needed t push the governments educational's policy forward.
"Are the critics saying we divert funds meant for educational infrastructure, the Capitation Grant, the school feeding programme, the free bus ride system for school children, among others, into subsiding petroleum products?" he asked.
"Do they have figures, apart from what the government has presented as estimated revenue? If they do, they should put them in the public domain and I am ready to challenge them on that," the minister stressed.
"I am saying the total revenue for petroleum products is 4.1 trillion cedis and I challenge them to present any figure contrary to that," he pointed out.
Referring to the increases in fuel prices, the minister said the past regime took over power on January 1, 1982, when fuel was less than 1.00 cedis a gallon but it shot up to 32.00 cedis five years later, representing an increase of 3,200 per cent.
Mr. Baah- Wiredu pointed out that the government had laid a better foundation by stabilizing the economy and ensuring a free market policy, compared to the past regime which Ghanaians were made to sleep for three consecutive years in the name of curfew.
He, accordingly urged critics of the government's policies to do away with passion and look at issues dispassionately and objectively to benefit all.
Mr. Baah Wiredu said the government welcomed the constructive criticism and not matters which would do nothing but mislead the public.