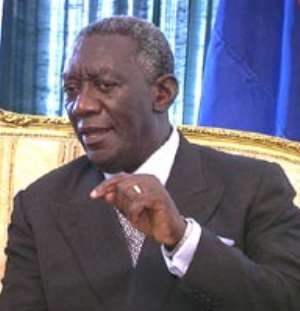 Adansi-Asokwa (Ash), May 16, GNA - A deputy minister has advised Ghanaians against misconstruing the increases in petroleum products to mean the government was insensitive to the plight of the ordinary citizen.
Mr K.T. Hammond, the Deputy Minister of Energy, said, "President Kufuor and his government do sympathise with the average Ghanaian over the increases but there is nothing the government can do".
"There is no use government should continue to increase fuel prices when there is no increases at the world market", he said. Speaking to journalists at the Adansi-Asokwa Constituency where he is the Member of Parliament, Mr Hammond said the government did not have any alternative since it had no control over the determination of the producing price of the petroleum products.
He said the instability in most of the oil producing countries had put pressure on few countries like Saudi Arabia to produce, hence the fuel situation on the globe.
The Deputy Minister expressed regret that people continued to have the notion that debts owned by government should not be paid by anybody. "The 4.1 trillion cedis debt on petroleum which was inherited by the NPP government was real and the country's economy would have collapsed, but for the NPP government", he said.
Mr Hammond said that debt too was owed to an entity, the Ghana Commercial Bank and the bank too was on the brink of collapse. He said the policies the government was implementing in respect of the management of the petroleum price increases were the best for the nation since the national economy continued to improve in the face of these fuel problems.
"I can assure Ghanaians that if it was the previous government, the pain in the system would have been unbearable, the economy would have collapsed and the country generally would have gone bankrupt", Mr Hammond, said.
He said the NDC would not have had any clue to the petroleum crisis.
"We sympathise with the average Ghanaians but God willing, the government of the NPP under the leadership of President Kufuor will see the country through safe waters", Mr Hammond said.