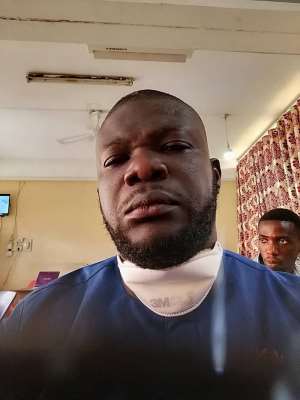 Our attention has been drawn to a video in circulation where Hon. Adu Poku Christian (DCE ) Afigya Kwabre South was assaulted in an unprovoked manner by some police officers.
On the said date the D.C.E was going rounds distributing hand sanitizers, Veronica buckets, and other essential materials to address the spread of Novel coronavirus.
We the "Youth for Development" in Afigya Kwabre South district lambast the incident and calls for immediate justice for the Chief Executive Officer of Afigya Kwabre South.
The president made it emphatically clear that some government officials are exempted or can carry out their day to day activities and anything which falls short of this is a breach of an order, the security forces engaged in juvenile theatrics in a modern-day security operations.
We, therefore, call on the National Security Minister, IGP, Ashanti regional Police Command and the appropriate authorities to make sure that the perpetrators of this dastardly act that dents the image of our security and rule of law in the eyes of the world is curtailed.
The security agencies who are to enforce law and order are rather abusing the law in an unceremonious and brute manner.
The ill disregard for basic professional security operations is an excess in our democratic dispensation considering the laurels our forebears chalked.
The increasing abuse of the law on the face of the COVID-19 lockdown has ignited a greater fear in the citizens as a District Chief Executive Officer is molested at the bark of the law.
There are fear and anxiety in the system and we foresee with actions having the tendency to clamp down on sellers of essential consumables.
We call on the interior minister, The national security minister, and the IGP to call their men to order and the appropriate sanctions meted out to the police officers.
Sequel the measures put in place by the president of the Republic of Ghana to eradicate the global pandemic COVID-19 which birthed the partial lockdown of some places in the country.
We equally call on the general public to abide by the measures put in place to curtail the spread of the virus.
Spread calm, stay home, stay safe. We shall overcome!
Robert Dambo
(President Youth for Development)
Samuel Wudana
(P.R.O)