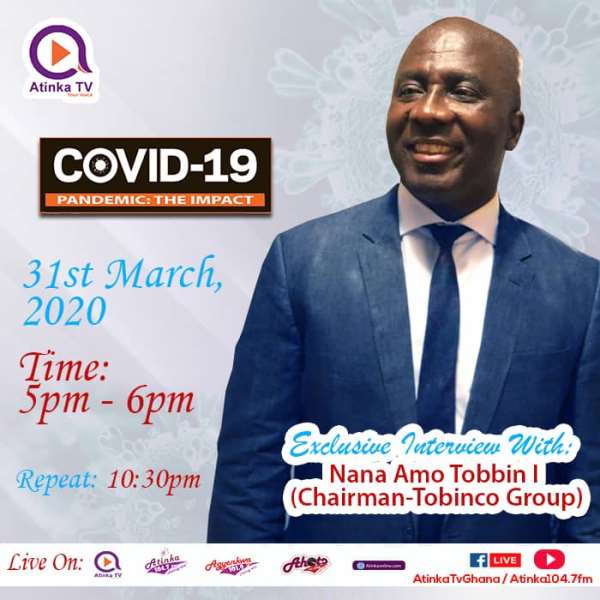 Lockdown strategies to stop the spread of coronavirus by President Akufo-Addo delayed, Group Chairman of Tobinco Group of Companies, Dr. Samuel Amo Tobbin has said.
He said the partial lockdown should have commenced on the very Friday, March 27 President Akufo-Addo made the announcement.
According to him, government should have anticipated the panic buying causing unnecessary increases in food price and mass movement from the lockdown areas.
President Akufo Addo announced on Friday a partial lockdown affecting some 40 municipal and districts in Greater Accra, Greater Kumasi and Awutu Senya East Constituency in the Central Region on March 30.
Dr. Samuel Amo Tobbin, in an exclusive interview on Atinka Tv, commended President's directive to partially lockdown areas identified as hotspot.
"Because the lockdown is partial, we can go to the market, the banks are opened to business, and the agricultural minister has discarded any uncertainty of food shortage, so the lockdown should have commenced right after the announcement."
He said, in a situation where street hawkers, head porters and other settlers within the lockdown areas have been reported to have travelled back to their villages, the spread could be pervasive.
Majority of head porters hail from the five northern regions, and according to reports, some were captured moving into various regions across the country.
He stressed, that to prevent and contain COVID-19, government was faced with the alternative to lockdown the entire country.
In his view, as part of ensuring an immediate lockdown, government should have accommodated head porters in the vacant Senior High Schools.
According to him, government's allocated budget to fight the coronavirus should have factored them.
Dr. Tobbin said, the situation is worrying in that a possible contact tracing might be impossible to trace entirely. "Government should have accommodated, fed and tested all these head porters in the various SHS schools since students are on vacation to serve as an opportunity to quarantined unlikely events of positive cases."