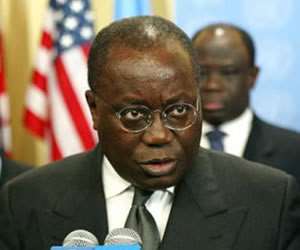 Combative Chronicle Publisher Nana Kofi Coomson, has pushed Foreign Minister Nana Akuffo Addo and his Presidential campaign team into a political ice box with nerve wracking exposes over the weekend that the Abuakwa MP has close political ties with the opposition National Democratic Congress (NDC) and some key government officials including ex- security capo Captain Kojo Tsikata.
With able and proficient clarifications on the linkage, backed by historical accounts last Friday on the Accra based Hot- FM, the crusading publisher blunted Nana Addo's main line of defence and forced Gabby Asare Otchere Darko, Media Director to Nana Addo into tactical retreat and admission that his boss has and maintains close affinity with former security capo, Captain Kojo Tsikata.
In his historical accounts dating back to 1996, Kofi Coomson alleged that Foreign Minister Nana Addo had freakishly behind the scenes foiled his (Kofi Coomson's) efforts when he( Kofi) dragged seven officials of the erstwhile NDC government to the Commission of Human Rights and Administrative Justice (CHRAJ) on charges of corruption and illegal acquisition of properties.
According to the Chronicle publisher, upon the request of the then National security capo, Captain Kojo Tsikata, Nana Addo, who was then a linchpin in the opposition NPP, abruptly stopped young lawyer, Yoni Kolendi from further pursuing the case at CHRAJ against PV Obeng and others.
Coomson said, as a young lawyer under Akuffo Addo, Yoni had to succumb to the hectoring from his boss and abandon the case at its tail end as they were about to face P.V Obeng, the then Presidential Staffer at the CHRAJ's final hearings of the corruptions allegations.
"Yoni tried very hard for me till one day, the following day we were going to court then Yoni came to me and said he couldn't go with me again. He said he couldn't defend me. He said, Nana Addo, his boss said he should stop the case. That was going to be my last appearance. I was going to give my last evidence against P.V Obeng at CHRAJ", he said.
After the case had passed several years later, I had information that Nana Addo had been contacted by Kojo Tsikata and P.V Obeng that he should help because I was troubling them.
"So, they had got in touch with him and he had applied pressure on Yoni, the poor young lawyer to back out. He was then a young lawyer, coming up so he had to listen to his master,' said the Chronicle publisher.
Explaining further, Kofi Coomson said the beginning of the tug of war at CHRAJ with some seven NDC government officials, Joe Ghartey, the current Attorney General took the lead in providing him with free legal support.
But at some point after dealing with some two or three officials, Ghartey bowed out and told him that he could not continue with the case because he had some urgent assignments in Canada he wanted to address.
Then he sought the assistance of another Brilliant lawyer, called Zwenes, who also took him through additional two government officials. Again the case tapered to close with big fish P.V Obeng in sight, Zwenes balked and said his wife was related to the wife of P.V Obeng, the then powerful de facto Prime Minister.
Nana Coomson pointed out that he then had to fall on the services of Mr. Yoni Kolendi who was then a young lawyer working in Akuffo Addo's chambers. After the preparation and some initial appearances, Yoni came to tell me one night that he could not offer his services to him because his boss, Nana Akuffo Addo had told him to back out.
That was when they were going for a last appearance with Mr. P.V Obeng and another unnamed government official. So he had a rocky experience the next day when he could not face P.V Obeng because he had no counsel.