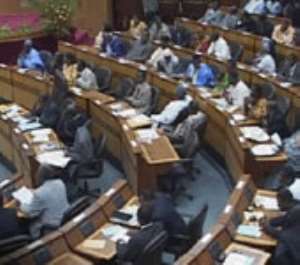 A panel of speakers at a public forum on 'The Persons with Disability Bill' has called for the time frame for the implementation of the Bill to be reduced from ten to five years.
They explained that if the Bill, currently before parliament is passed with the five to ten year transitional period, persons with disability will still be discriminated against.
The panel comprised Nana Oye Lithur, Africa Regional Co-ordinator of the Commonwealth Human Rights Initiative; Veronica Kofiadu, an executive of Volta and Eastern Regions Disability Network; Emmanuel Agbezuge, a retired tribunal chairman and John Moeller, a Dane, both physically challenged.
The forum was organized by Voluntary Service Overseas (VSO) Ghana, in collaboration with Volta Region Disability Network to discuss the implementation of the policy document on the bill that has been formulated since June 2000.
It was attended by disabled people's organizations, the business community, religious leaders, civil society organizations and officials of the Department of Social Welfare.
Nana Lithur advised members of the Disability Network to lobby for the period to be reduced to about three or five years saying, "If the bill is passed and the transitional period still remains ten years, it will be very difficult to get Parliament to amend the Act.
"You will have to make serious advocacy efforts that can ensure that the current legislation is improved to give you the rights and access you deserve since the Bill has been read once already before Parliament went on recess" she said.
Ms. Kofiadu cautioned that if the ten years transitional provision remains in the Bill, the discrimination against PWDs will persist.
Mr. Agbezuge said there was the need for Parliament to rush the passage of the Bill and advised people with disability organizations to form a steering committee to take a critical look at the Bill and make the necessary changes to give effect to the disability rights contained in the constitution.