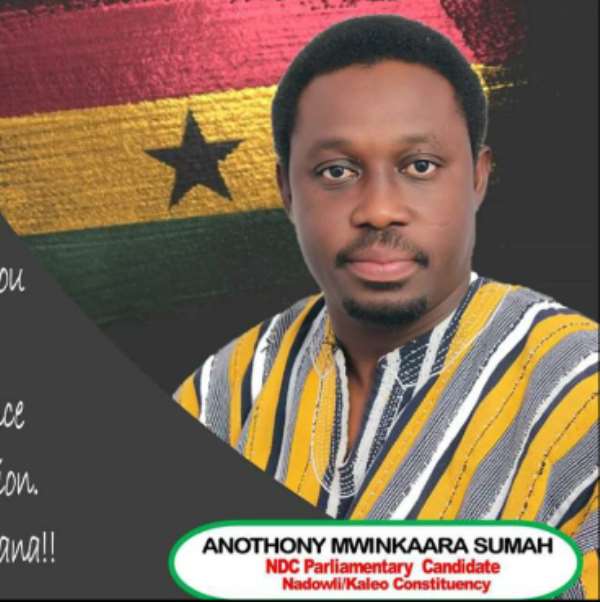 The Parliamentary Candidate of the National Democratic Cogress in the Nadowli-Kaleo constituency, Anthony Sumah has on Monday 30th March, 2020 donated a number logistics to the Nadowli District Health directorate as part of his contribution to the fight against the deadly covid-19 in the Nadowli-Kaleo District.
The logistics included Veronica buckets, sanitizers, and gallons of liquid soup.
Speaking to the media after the donation, the parliamentary candidate said that it was necessary everybody joins hands in the fight and that he is ready to help in any regards within his capacity to ensure that his constituents are safe. He also said that his doors are opened to the District Directorate to assist in any other thing that may requires his assistance. According to him, he has taken notice of the many challenges being encountered in the fight so far and that his donation is to complement what the Member of Parliament for the Nadowli-Kaleo Alban Bagbin has done.
Hon Alban Bagbin, some few days ago, donated an amount of ¢GH20,000 to the Health Directorate to enable them confront the pandemic.
The District director, Madam Phebe Bala expressed his joy for the kind gesture extended by the National Democratic Congress. She said, the cash amount donated by Hon Alban Bagbin is what has kept them running and that the complementary donation by the parliamentary candidate, Anthony Sumah was timely. She promised to make good use of whatever donated to the directorate to the benefit of all. She added that the directorate still need so many other things like PPES and test kits to enable them confront the situation.
Background
The coronavirus pandemic in Ghana is an ongoing viral pandemic of coronavirus disease 2019 (COVID-19), a novel infectious disease caused by severe acute respiratory syndrome coronavirus 2 (SARS-CoV-2). The first two cases of COVID-19 in Ghana during the 2019–20 worldwide pandemic was confirmed on 12 March 2020, when two people returned from Norway and Turkey.
Ghana currently has 152 confirmed cases with 5 death cases. In the Upper West Region where the Nadowli-Kaleo is located, one case has been confirmed and contact tracing of the affected person ongoing.
The Nadowli-Kaleo District Health Directorate has not yet recorded any case at the time of this report.