Elected Haiti president takes office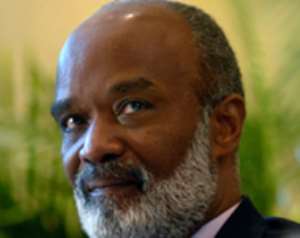 Rene Preval has been sworn in as Haiti's president, its first democratically elected leader since Jean-Bertrand Aristide was ousted more than two years ago.
Preval, a 63-year-old trained in agriculture, took the red, yellow and blue presidential sash from the speaker of the National Assembly in a 25-minute ceremony on Sunday, more than two months after he was declared the winner of Haiti's chaotic February 7 presidential election.
Preval has worked to form a coalition in the newly elected parliament and has appealed for long-term development aid to his Caribbean nation, destabilised by decades of dictatorship, coups and turmoil to be the poorest nation in the Americas.
Preval is a one-time ally of Aristide and, like him, is seen as a champion of the poor. Since Aristide was forced from power by an armed revolt in February 2004, Haiti has been ruled by an interim administration backed by a Brazilian-led UN peacekeeping force.
The teeming capital was under tight security on Sunday, with about 4,500 Haitian police and UN peacekeepers perched on armoured personnel carriers and patrolling Port-au-Prince's city centre.
Outside parliament, scores of pro-Aristide demonstrators chanted "Aristide will return" and held pictures of the former president. Police and peacekeepers blocked their path, preventing them from getting closer to the building.
Tear gas
Shortly before Preval took the oath of office, several prisoners were wounded as police and troops fired tear gas to halt a riot at the overcrowded National Penitentiary, where some inmates climbed onto the roof.
Marc Wilkens Jean, Haiti's national prisons director, said the inmates claimed to be political prisoners and said they should be released.
Rights groups say the US-backed interim government appointed after Aristide's departure has locked up hundreds of Aristide supporters without charge.
The United States, a major behind-the-scenes player in Haiti, has welcomed Preval's election, but warned him not to bring Aristide back from exile.
Misery
Analysts say Preval must work fast to help the poor.
Larry Birns, director of the Washington-based Council on Hemispheric Affairs, said: "The Haitian people have suffered long and hard and so it's imperative that Preval produce fast.
"With Preval, it's going to be a race against the clock. The affection of the people for him is a function of the rapidity with which he makes a difference in their present wretched standard of living."
Preval first served as president from 1996-2001 and is the only leader in Haiti's 202-year history to win a democratic election, serve a full term and peacefully hand power to a successor.