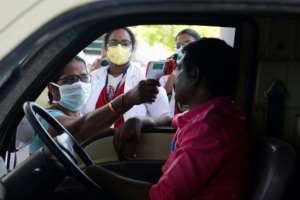 The law cannot cater for the myriad of personal circumstances people find themselves in. I am concerned about police and military brutality during the partial lockdown. Compassion and not string arm tactics is required.
The military and the police cannot apply force unless there is proof that the person is deliberately flouting the law or attacking the security personnel.The emphasis is on deliberately flouting the law. Strict and clear guidelines preventing abuse of power is required. A hotline to report corruption and brutality must be advertised. Please .
People should stay home, and should not find any weak excuse to go out. The virus is real. Having said that, I wish to condemn any likely egregious display of police brutality that will be meted on some Ghanaians who may be found outside. As a matter of fact, some homeless men and women, girls and boys, and families, live in market places, and are likely to be seen outside, innocently. The police should arrest them pursuant to applying the presidential directive of corona partial lockdown/ curfew.
Videos in circulation show some security persons warning people to stay indoors or flout the directives in exchange of dirty slaps. It is important to remind them that the security personnel are not now free and not at will to beat and maim at will because they're entitled to enforce the partial lockdown order. There wasn't any connotation of violence in the directives the president gave and any likely brutality should be condemned fully. The same public order creates offences and punishment if in breach. Brutality is not one of them and should not be used.
People who deliberately will want do disobey the president's instruction of staying homes should be arrested and interrogated and not moered.
Because if a citizen is being the wrong side of the law, it doesn't mean they should be brutalized
Police should arrest them lawfully without compromising instead. The partial lockdown doesn't give the soldiers or the police the license to beat people mercilessly. Human being as we are ( including the police and soldiers) cannot handle power. This is not the time to just have fun and beat people. I support the partial lockdown and I will encourage everybody to stay indoors. My concern is the likely undue police/military brutality during this lockdown. They have absolute power, and absolute power corrupts absolutely.
Lockdown agreed. It's necessity. Unconstitutional Police/military brutality can't be tolerated.
May the good Lord hear our prayers and Heal our land!
The writer is a Teaching and Research Assistant at the Department of Accounting and Finance, KNUST School of Business.
Isaac Bawuah