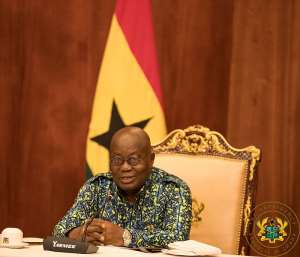 Greetings from a village boy at Nandom in the Upper West Region of Ghana. Despite our predicament as a nation, we still have enormous reasons to be appreciative enough to the Almighty God. One of such reasons is the new age God has granted you today. Another one is the life each of us has as of today amidst the pandemic CONVID-19. God has blessed you and more Ghanaians by adding one more year to your life making you a seventy-six (76) year old man today.
If not for CONVID-19, I believe strongly that this day of yours would have been celebrated in a grand style particularly when you assumed to have executed virtually all your flagship policies as a government in power. Having had the opportunity to watch the video of your wife's birthday celebration, the birthday of the first lady of the fourth Republic of Ghana which came off in this same month, I am of a firm conviction that your seventy-sixth birthday which is today would have been fantastically fantastic.
As a village boy from a deprived region where Cerebrospinal Meningitis(CSM) claims a multitude of human lives, I write to add my small but loud voice to the many voices in expressing my best wishes and felicitations to you on this great day of yours. May this new age of yours brings healing and an end to CONVID-19. AMEN. May it brings you more grace to lead your people through these turbulent times.
Mr. President, it is conspicuously clear that your seventy-sixth birthday this year came in unusual times, that is unfortunate, however, we will not hesitate to celebrating you because of our current predicament. Not at all! We can not wish you sad birthday too because of our current situation. I am without any equivocation that your worst experience in the history of your life as you will respond if ask, is what we are going through now. May your new age gives you the strength to sincerely fight this battle.
Mr. President, I agree with you holistically that we are in extraordinary times however, kindly permit me to draw your attention to some basic incontrovertible facts about you as the "leader" of this country. It is never my desire to torment you, particularly in this trying times. You are our leader and you must take every criticism in good faith. Our elders do say that a man must not swallow his cough because he fears to disturb the sleep of others.
Mr. President, ever since you took over power, your actions and inactions towards the good people of the Upper West Region have been inimical to our survival. Why is that so? I will not be far from right to say that you wish us bad except that you have not explicitly express it. Below are some of my justifications:
The people of the Upper West Region are facing multiples crisis as of now but you have since been indifferent towards our plight. An age-old and indigenous disease known Cerebrospinal Meningitis (CSM) is claiming the lives of many people in the region which you are not unaware but remains mute on it. You have not even said a word of which we may take solace in. All your concentration seems to be on the imported disease that has claimed lives far less than the CSM has so far claimed in the Upper West Region. Do not misconstrue me. I have not said you should shift all your focus to the Upper West Region rather some modicum of attention should be given to us so that we can collectively and in unison fight both diseases.
I clearly recall previous governments used to make vaccine available for us to get vaccinated against this CSM without paying a penny but ever since you ascended the thrown as the president, we never had the opportunity to experience that vaccination exercise even ones.
Records emanating from the Upper West disease control officer, Mrs. Zoyah-Diedong, indicate that this year's case is becoming worse off than previous years. She said that eighteen (18) out of one hundred and thirty-seven (137) died. She went further to indicate that "the worst affected districts were Nandom (5), Nadowli (7), Jirapa (5), Daffiama-Bussie-Issa and Lawra (1)". She said that "Nadowli tops the list with seven fatalities so far, followed by Nandom and Jirapa, with five fatalities each, and Lawra, which had recorded one fatality". Mrs Zoyah-Diedong made these statements during an emergency epidemic committee meeting in Wa.
She went ahead to enumerate some of the challenges that contribute to the rising death rate. She said, "the delay in getting results of samples from laboratory tests from Tamale in the Northern Region, inadequate funding for the procurement of equipment and poor logistics as some of the impediments to health service delivery in the region". Mr president, all this information is available to you yet your government see no reason in mitigating CSM to saving the lives of the people in the region. Is it because CSM is not pandemic to offer your government any material benefits as you receive from others as an outgrowth of CONVID-19?
Again, Mr. President, you are aware that the Upper West Region has recorded one CONVID-19 case yet in your forth address to the nation on Friday 27, 2020 on CONVID-19 pandemic, a mention was not made in that regard. Meanwhile, the spread of the disease into the region was due to your negligence, indecisive and lack of foresight as the president of the country. If you had locked down the regions you hesitatingly declared a lockdown tomorrow, Upper West Region may not have recorded a single CONVID-19 case as of now.
Mr. President, your insatiable penchant for power has been explicitly manifested by CONVID-19. How can you be so power drank to the extend that you don't want to inconvenience anybody in your quest to extend our life span in the fight of the deadly Corina virus? That is not possible. You are not an Angel. It is practically impossible to successfully fight this disease without inconveniencing anybody in the country. So do you think that the 14 days lockdown you declared starting from tomorrow will leave nobody inconvenience? That is a big NO. So why the delay in the enforcement of the same decision that would have curtailed the spread of the disease in the Upper West Region?
Also, Mr. President, another indicating factor for your desire to hold on to power at all cost is the naked lies you told Ghanaians in open camera about setting aside what many referred to as an audio £100 million to fight CONVID-19. An amount that is yet to be considered whether or not to release by IMF. Information available indicates that about eighty (80) countries applied for financial support from the same IMF to combat the same CONVID-19. Why should an elderly man like you dabble in such blatant untruths like this?
Mr. President, let me not bother you with so many words in these trying times. I know you are already confused because of the CONVID-19 calamity that befalls us. But let me conclude, in all sincerity, Mr president, it is abundantly clear that you have lost it all in advanced _the power that you are trying to cling onto in this year's election. As to whether or not we will live to partake in it is a question no one can answer especially this time.
Mr. President, CONVID-19 and distance will not permit me and many of your cherished friends to join you in the jollification that may come off today to climax your birthday celebrations. But I want to assure you that I will be with you in spirit in the pending restricted merrymaking. Once again Happy Birthday Mr. President.