To Our Medical Staffs And Frontliners, We Say Thank You!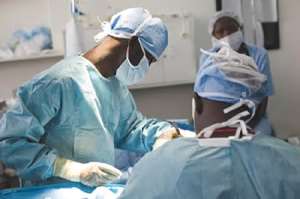 We the people of Ghana, those you have vowed to work tirelessly to save acknowledge your efforts and we will want to say thank you. You have left your homes and families and have made our health facilities your place of comfort in order that you will comfort the sick and bring them back to health. We say God bless you.
The fight against Covid-19 has been very tough but you have proven that it isn't over your strength. You have left everything you should have done, and you're doing your best to help save lives. You have always helped in the improvement of lives! We say thank you.
We the people of Ghana see what you're doing to help our beloved country overcome this pandemic. We are fully aware of the many sacrifices you make every day to help sustain the lives of Ghanaians. Although there is a sabbath day for every worker you forgo yours so that people will live. In this period of crisis, instead of sticking to the "shift chat", you are always on the move. We the people of Ghana appreciate your efforts.
Dear doctors and nurses, we are aware of the dangers you may face as you daily have to safeguard the lives of infected persons. We the people of Ghana are aware of the fact that you can contract the disease as you administer to those infected. We are also fully aware of the fact that you nurses can contract the disease as you go from bed to bed to administer to those infected. With all these and other sacrifices you're making to help Ghana recover from this sickness, we say a big thank you.
Before we rest our pen may we also register that we are aware of other nations how some medical staffs have lost their lives as they served their fellow friends. We are aware that you leave your families back home and spend many hours at the hospitals. We are aware of the love that children should get from their parents which is not happening these times because of Covid-19.
We say a big thank you for all the sacrifices you are making each day.
May you all have a deepened love of service for neighbour.
Take care of yourselves as you help infected persons recover to health. Do the little things you're doing now with a great love for they are extraordinary to us Ghanaians.
We thank all Medical workers for the sacrifices they're making. We the people of Ghana say thank you.
From the pen of Emmanuel Graham Nyameke.