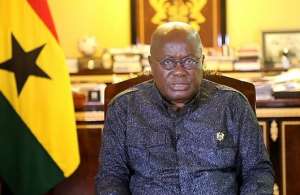 The novel coronavirus that surfaced in December last year, in Wuhan, Hubei province in China, has crossed China into international borders and has affected thousands across the Globe.
Governments in developed and developing countries are battling with the Virus and have put in place measures to curb the spread of the virus. The nature of the Virus and its mode of transmission has made the fight against the virus a hard one for governments everywhere.
From the official Ghana health service website as at 19:00 GMT, routine surveillance indicated 59 confirmed cases, 2 recovered, 53 individuals responding to treatment, and 4 deaths. Those under mandatory quarantine showed 78 confirmed cases. This brings to 137 the total number of confirmed cases.
Several countries in the EU are observing strict lockdown of movement. Movement is allowed for very limited purposes namely essential shopping and traveling to work if "absolutely necessary", for medical needs or helping others in need, or to take exercise and gatherings of more than two people are banned, other than with those they live with. In some of the countries, Failure to comply can result in a fine of €135, rising to €1,500 or even €3,700 and even a prison term for repeat offenders. Countries that have declared this lockdown include Italy, France, Germany, Denmark, and the UK.
Ghanaians are calling on the government to declare a similar lockdown to curb the spread of the virus. A lockdown if declared will have a lot of ramifications on quite a number of Ghanaians.
The Pros
The obvious advantage of a lockdown will be that the spread of the virus will be contained. The virus doesn't move. People move the virus around. So if a lockdown is declared and we are all home, the virus stops moving. With everyone indoors, all attention of medical workers will be put to helping those who have the virus to recover and identifying and screening those with whom they had contact.
The Cons
The above advantage not withstanding, a lockdown will lead to a number of problem.
First, have we thought about the homeless and those on the streets? Where do they go if a lockdown is declared? How will they survive?
Second, if a lockdown is declared, I doubt the the average Ghanaian family will have available money required to stock up food and other supplies for about 2 weeks or a month, especially those who live hand-to-mouth. If a lockdown is declared, demand for food and other essential household items will rise. This will obviously lead to increases in prices, making it even more difficult for those who cant afford.
Three, taking into consideration the poor nature of our online shopping and delivery systems, we are likely to go hungry or be in need of essential items when what we have stocked up gets finished. Is such a situation, we can not easily order and get delivered to our doorstep what we need, be it food or whatever. what do we do?
Four, a lockdown will mean that, the government should be ready to spend to make life comfortable for Ghanaians during that period. The government may have to provide food, water, shelter toiletries for the homeless, those in the streets and the less privileged. The government may also have to distribute food, medical supplies, etc., every now and then to those who may be in need of them. This will will have to be done every day of the lockdown.
The President Akufo-Addo in a meeting with the leadership of TUC on March 26, 2020 said, " People in Ghana are now talking about a lockdown. Majority of people who will be affected by decisions of that nature are the working people of our country, the ordinary people of Ghana. They are the ones who will be affected, and it is important for us to take into account the circumstances and conditions. When we lock down Accra, what are the consequences? A responsible government is required to look at all the implications before decisions are made. And that is the exercise we are currently engaged in, and I am hoping that much sooner than later we will come to an agreement on what those measures are and the Ghanaian people
will be informed."
We believe the President and his advisors and all those in authorities and doing all they can to make the necessary arrangements. They need our prayers and encouragement.
In the mean time, do not forget to wash yourself with soap under running water; use an alcohol based hand sanitizer; avoid unnecessary outings and body contact; and observe social distancing. Our survival is our own hands. Be safe.
Frimpong Mansoh Cobbina
GBC Radio Central
Cape Coast
[email protected]