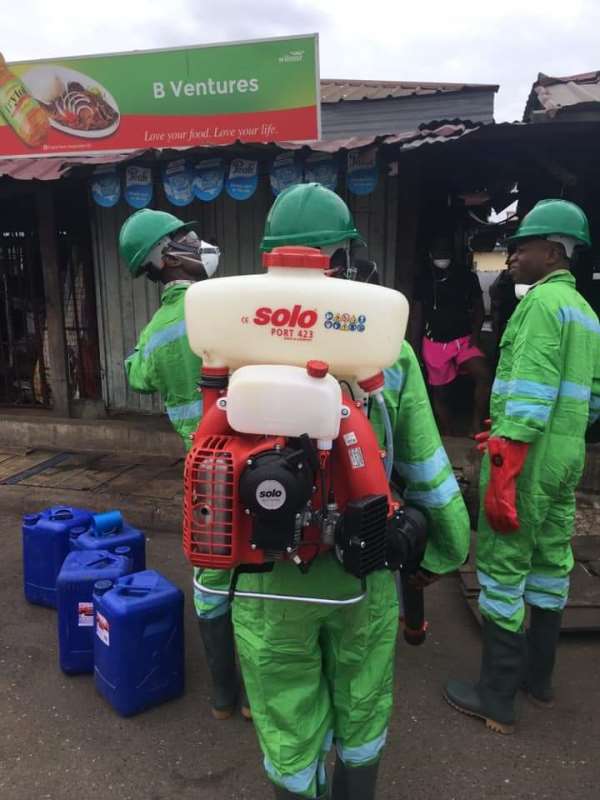 The Ayawaso North Municipal Assembly has undertaken a disinfection exercise at some market centers and principal streets of Mamobi, Accra Newtown, Kotobabi and its environs aimed at the Coronavirus pandemic.
The MCE, Mohammed Aminu Zakari (Aminu MZ) on Monday, 23rd March led officials of the assembly including elected Assembly Members to carryout the exercise at various locations within the municipality.
The exercise forms part of measures to combat the spread of the Covid-19 virus in which Ghana has recorded 27 cases and two deaths.
Hon. Aminu MZ and officials of the assembly used the opportunity to educate and sensitize members of the community on the preventive measures against the deadly virus.
He also advised residents and businesses in the area to adhere to President Akufo-Addo's directives not to hold public gatherings such as weddings, funerals, and congregational prayer.
The MCE also urged the community to practice also the Covid-19 health protocols at all times as part of the safety measures.
However, Member of Parliament for the Ayawaso North, Hon. Yussif Jajah also joined the exercise together with constituency executives of the NDC.
Also supporting the excessive was Alhaji Manaf, the NPP parliamentary candidate for the 2020 elections and accompanied by his constituency executives.
Meanwhile, markets and businesses in Accra, Kumasi and other parts of the country where the disinfection exercise took place are expected to reopen Tuesday, 24th March at 7am.