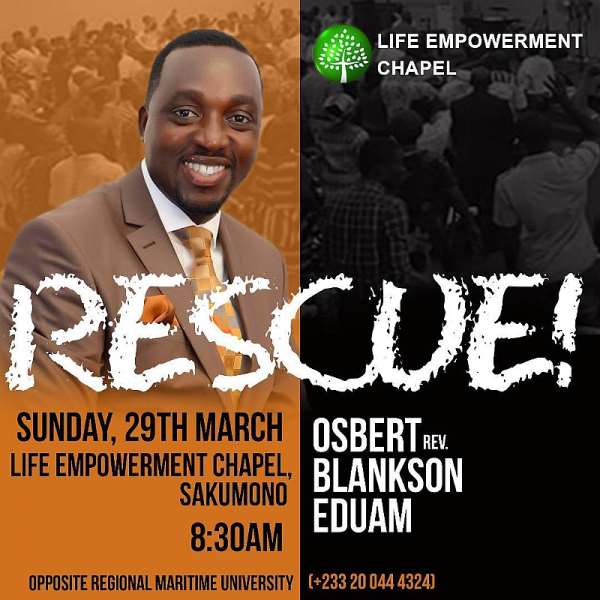 The Senior Pastor/Founder of Life Empowerment Chapel has indicated the postponement of the highly anticipated international program, RESCUE SUNDAY which was slated for the 29th of March, 2020 at the Sakumono branch, opposite regional maritime university.
This postponement is in consonance with the Government of Ghana's ban on social gatherings for the next four weeks.
The Leader of the church stated that "As a law-abiding church who do not wish to act contrary to government instructions which are not against our Christian belief, it is important that, this major gathering of anticipated 1000 plus be postponed in order to aid the fight against this coronavirus (COVID-19) pandemic".
Rev. Osbert Blankson Eduam indicated that nonetheless, the church leadership encourages all and sundry to perpetuate the core message of RESCUE SUNDAY which is salvation, and continue with every effort to win and rescue the lost at all cost.
He further added that, although RESCUE SUNDAY is postponed to another date which shall be communicated to all in a due cause, they implore each one (the entire Christian community) to advance the message of SALVATION and also pray for the healing of our nation Ghana and the entire world. With respect to the COVID-19, he admonished all Ghanaians also to keep personal hygiene in order not to become victims of this virus outbreak.
The Leader of Life Empowerment Chapel ended that, "As the Senior Pastor and Founder of the Life Empowerment Chapel, I would like to use this medium or platform to thank and congratulate THE RESCUE TEAM and all who were working effortlessly towards RESCUE SUNDAY. I assure you that in spite of this postponement, your labour which was geared towards RESCUE SUNDAY and the advancement of God's Kingdom will surely be rewarded, as said in Mathew 6:33, 1 Corinthians 5:58 and 1 Timothy 5:18.