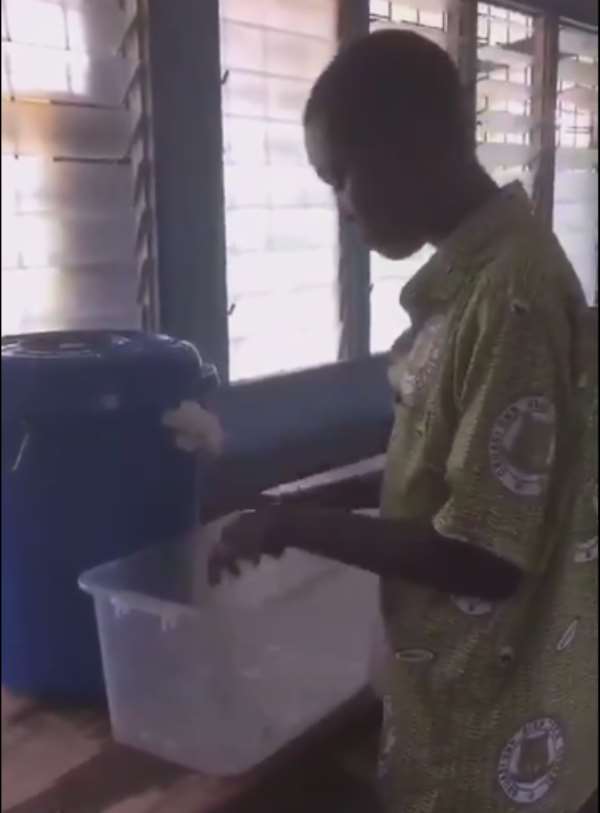 The robotic club students at Obuasi Technical School have joined the fight of the pandemic coronavirus diseases which has claimed a life in Ghana.
In regards to safety measures recommended by the World Health Organisation to be observed by the public in order to reduce the risk of contracting the virus, the robotic club has assembled a robotic washing bowl which does not need users to touch the tap before washing their hands.
As demonstrated by one student, the tap automatically opens immediately one puts the hand below the tap in an attempt to wash the hands.
The purpose was to avoid people contacting the virus by touching the tap as they wash their hands since the coronavirus according to research lives on the surface of materials.
Ghana since March 17th, 2020 has recorded 24 confirmed cases and one death.
The President of the republic, Nana Addo Dankwa Akufo-Addo on March 21st, 2020 addressed the nation on safety measures to avoid the spread of the novel coronavirus of which he has ordered the closure of all borders from human trafficking and declared 25th March 2020 a national fasting and prayers daily.
This was after he had suspended all social gatherings and the closure of all educational institutions in the country.
---Gideonsweb.com