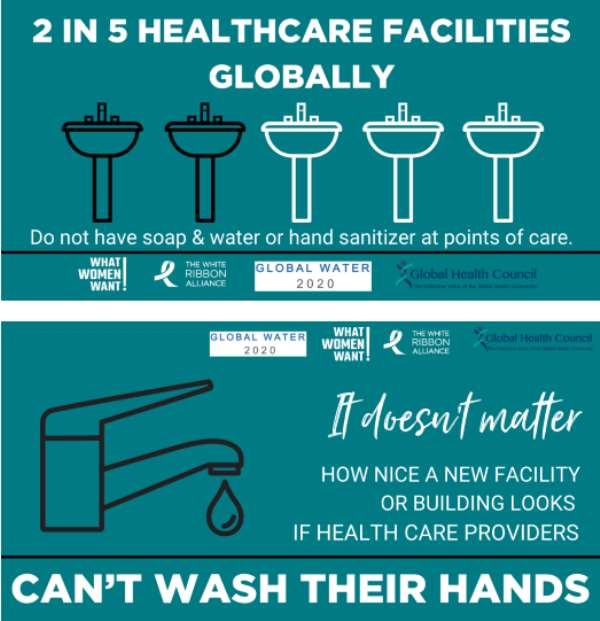 TODAY MONDAY, MARCH 23, the world is observing WORLD WATER DAY. Your engagement has never been more important: Healthcare facilities around the world, critical in the fight against COVID-19, do not have access to water!
Please join people across the globe as we amplify the World Health Organization's new Twitter campaign: The Clean Hand Challenge [#safehands]— to call attention to this travesty in healthcare.
@DrTedros, Director-General of the World Health Organization (WHO) is calling on everyone to wash their hands in light of COVID-19. That's life-saving advice…as long as there are soap and water. Here's the reality: the majority of healthcare facilities in developing countries do not have adequate access to Water, Sanitation, and Hygiene (WASH).
These healthcare facilities and staff where billions of people seek care are on the global frontlines of defense in preventing and containing COVID-19 and other diseases and outbreaks. It's one of the reasons why WASH was among the top requests from the 1.2 million women and girls who responded to the global What Women Want campaign survey about their needs for safe healthcare.
WASH must be present to prevent infections in patients and staff; prevent and contain pandemics, diseases, and antibiotic resistance; carry out safe surgery, and provide safe and dignified care that protects women and newborns.
Here's how to join, in 3 easy steps…or just 1:
1. Use your phone to shoot a short video washing your hands and post it. AND: if you know someone who cannot adequately wash their hands due to the lack of WASH in healthcare facilities…ask them to video that problem and post it!
2. Top hashtags: #safehands #COVID19 #WorldWaterDay
Secondary hashtags: #WASHinHCF #WhatWomenWant
3. Below you'll find lots of tweets and 3 graphics, so please post your video multiple times with different tweets and tag colleagues. Please ask your circles - to join in. The more the better...let's be seen and heard on MARCH 23!
Or in 1 easy step: Don't feel like doing the video? No problem! Just cut/paste/post some of the tweets and graphics below and get your colleagues/friends/family on board.
Sample Tweets and Graphics:
1. Thousands of healthcare facilities don't have #water & #soap, critical to pandemic response & preparedness. #WASHinHCF #safehands #COVID19 #WorldWaterDay
2. Would you go to a healthcare facility with no water? Billions of people have no choice. #WASHinHCF #safehands #COVID19 #WorldWaterDay
3. #Handwashing is key to preventing the spread of #COVID19. But 2 in 5 healthcare facilities globally do not have soap & water or hand sanitizer at points of care. #WASHinHCF #safehands #WorldWaterDay
4. Healthcare facilities & staff are the frontline of defense against diseases and pandemics, including #COVID19, but around the world they lack access to soap & water. #WASHinHCF #safehands #WorldWaterDay
5. [email protected]: "If you can't do the basics forget the rest. Prevention, prevention, prevention." #WASHinHCF #safehands #COVID19 #WorldWaterDay #WhatWomenWant
6. Healthcare workers around the world can't wash their hands! This needs to change. #WASHinHCF #safehands #COVID19 #WorldWaterDay #WhatWomenWant
7. #Handwashing is crucial & not available in healthcare facilities around the world. When we asked #WhatWomenWant, #WASHinHCF and dignity were it – it's time to deliver! #safehands #WorldWaterDay
8. If it takes an historic pandemic like #COVID19 to show the importance of access to #WASHinHCF, let's learn this lesson. #WorldWaterDay #safehands #WhatWomenWant
9. Listen and act on #WhatWomenWant: soap, water, sanitation and dignity in their healthcare. That's not too much to ask for safe care! #WASHinHCF #safehands #WorldWaterDay
10. Healthcare facilities must be able to maintain hygiene in the fight against #COVID19. They can't when they don't have water. #WASHinHCF #safehands #WorldWaterDay
11. Protecting healthcare workers protects all of us. They need reliable access to #water to do their jobs and stay safe. #COVID19 #WASHinHCF #safehands #WorldWaterDay