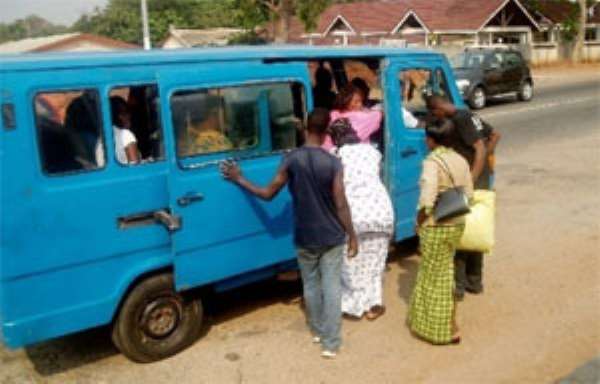 Growing up in a staunchly middle-class black neighborhood in Aboabo, a suburb of Kumasi. Where we always enjoy our trosky, day in and out.
Being in that car, in a hot afternoon, is like enjoying holidays at the desert. The sweat alone, can flood your face to the extent of soaking your skin net or vest.
The scent coming from the armpit of the mate alone, can even trigger some inner tension and total discomfort. In fact, that alone can make you lose your direction. Though it has nothing to do with Covid-19 but the big question is....Are we safe in that Trosky..?
Ampadu was asking; can this mate adhere to that act? The act of putting on gloves, each and every day. But the funny thing is, they can't and it is an undisputable fact. This means, most of us are not safe...
How many of us can even stop shopping in traffic..? Not even a sachet of water. What about the young man selling fan milk and co in that traffic...? Has he sanitized his hands enough..?
Can we always keep away from touching the seat..? The fact is, it's not easy to adjust to this disciplinary act.
The availability of the Veronica buckets at our car stations too is a different story. This contradicts the practice of hourly hands washing...but as a typical Ashanti man will say, "Ye dan Nyame."(Means we rely or count on God)
For social distance; that 2 meters way distance...can't work in these settings. And I keep on asking, how safe are we in that trosky..?
The quality of that sanitizer too is questionable. Is it below or within standard..?
I came across a research findings, published on 21st March, 2020 at 8:10am. The research was done by Dr. Courage Kosi Setsoafia, a biological scientist and also a lecturer at University of Developmental Studies (UDS), Nyakpala campus- Microbiology Department. The biologist stated it category that, out of 28 different brands of sanitizers sampled from markets in Koforidua, Kumasi, Tamale, Accra, and Bolgatanga, only one can be label as "quality", within the context and regulations of FDA. And I ask, what brand of sanitizer are we using....? Can this keep us safe in that trosky...? Our life is somehow in danger, no one is on the safest side.
Remember, Covid-19 has no respect to anyone, including the pope.
We have a lot to do as a country.
Thank you.
Adjei Boakye.
Executive Director
Captains Connekt Foundation.