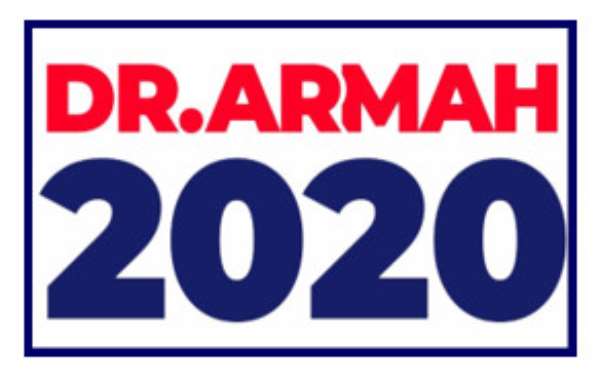 Our attention has been drawn to a recent "press conference" convened by an amorphous group purporting to represent some voices in the Kwesimintsim Constituency during which event the spokespersons made several false, unmeritorious and unethical claims about Dr. Prince Hamid Armah who is contesting in the New Patriotic Party's primaries in the Kwesimintsim Constituency.
Those baseless allegations have unfortunately been covered in some parts of the media without recourse to Dr. Armah's campaign team or any of our representatives for our reaction and clarification as required by sound journalistic standards and the provisions of the 1992 Constitution.
We wish to put on record that these allegations are categorically false and a figment of the creative imagination of the gentlemen who held the event and their backers who for now remain faceless. Suffice it to say that Dr. Armah is a properly registered voter, a legitimate member of the New Patriotic Party and is in every way qualified to contest and become a member of Ghana's Parliament on the ticket of the party. The increasingly frantic machinations of this group of individuals will not change this simple fact.

While we are reluctant to give any weight to these ridiculous allegations, we wish to make the following facts plain to all well-meaning Ghanaians, especially the delegates and members of Kwesimintsim Constituency of NPP who are yearning for quality and accountable leadership:
That Dr. Prince Armah has been a registered member of the New Patriotic Party since attaining the voting age. He has held and contested for several party positions which by law and convention required that he must be a registered member of the Party. He has always held a party card, including the white cardboard and blue, hard cover booklet. The party itself, however, has on occasion, changed the card and manner of registration, requiring party members to update their membership. When it did so between 2016 and 2018, Dr Armah duly re-registered and was issued with a valid party card. A receipt of this can be accessed in the Party's records by anyone, including the responsible press and especially party officials eager to verify this fact.
That when the current register was compiled by the Electoral Commission in 2012, Dr. Prince Armah registered as a voter in Agona Nkwanta which was the closest place he could do so from where he was then working. When the Electoral Commission opened a window for the transfer of votes in or around March 2019, he duly transferred his vote to his native Kwesimintsim Constituency and has since been on that register. During the exhibition exercise of September 2019, the fact was of this transfer was duly verified and cannot be controverted.
That Dr. Prince Armah was born in Kwesimintsim which fact satisfies the necessary and qualifying conditions to be classified as a native. Even as he has travelled around the world for work and study, he has always kept a home there and his family is well known in the community. There is no reason for any person to state otherwise except for the obvious political motivations that drove this shameful exercise.

It also very important to note that in their haste to wrongfully attack the candidacy of Dr. Prince Armah, these individuals committed an obvious forgery by creating their own Voter Card which they then pretended to have somehow discovered to be for Dr. Prince Armah. We take a very serious view of this and wish to alert the relevant security agencies to this palpable crime. We urge the security apparatus to get to the bottom of this matter to ensure that the perpetrators are brought to book. A copy of the said forged document is attached to this statement for ease of reference.
Finally, we wish to point out that Dr. Prince Armah, having been duly vetted and approved, is now officially a candidate for the NPP primaries to all intents and purposes. He is now presenting his vision to the great delegates of Kwesimintsim NPP and will not be distracted by such devious intrigues from those desperately wishing to avoid accounting for their stewardship and are pursuing a scorched earth agenda that sublimates the fortunes of the Party to their own parochial ambitions. Such personalities would be well advised to at least look for a message because this attempt is doomed to fail rather miserably.
We are grateful to the delegates and rank of file of our great Party who have shown themselves impervious to these tricks and are united in their desire to see the Kwesimintsim Constituency chart a better path.
Sgd.
Jojo Bossman 054 773 7759
Press Secretary and Spokesperson
Dr. Armah 2020