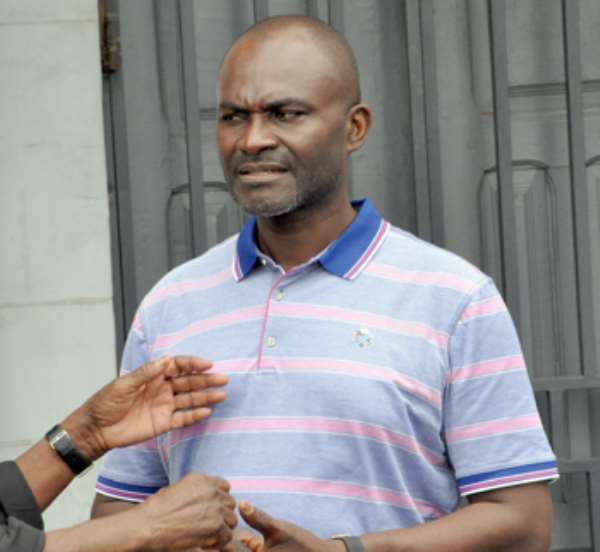 Kennedy Agyapong
From my WhatsApp page message received from one of my numerous contacts, Kennedy Ohene Agyapong (Honourable), Member of Parliament for Assin Central constituency in the Central region, is being mocked and nicknamed Kennedy Amma Agyaponmaa/Agyapong.
This is because of his alleged acceptance of an apology from false Prophet Emmanuel Badu Kobi to cease fire, thus, not to continue to drag him to court and to prison following his evasion of duty payments on his imported cars into the country under former President John Dramani Mahama's NDC government.
Kennedy had himself promised the nation on air that should he fail to pursue Prophet Emmanuel Badu Kobi until his arrest, prosecution and conviction to a jail term, he should henceforth be called Kennedy Amma Agyapomaa or Kennedy Amma Agyapong.
Now that Badu Kobi has apologised and Kennedy has accepted it, will he drop all his criminal findings against him to not see him go to jail? If he does, then "It is nobody that killed Antwi, but Boasiako himself offered life to be sacrificed". Thus, Kennedy himself has brought the teasing name upon his head by his own vow and utterance as explained above.
However, I call on Ghanaians not to be jubilant over the new name Kennedy risks having by his own utterances as by far he has helped to expose Badu Kobi for being a criminal. The rest is up to the Ghana law enforcement agents like the police, customs and Drivers & Vehicle Licensing Agent (DVLA) to continue from where Kennedy is about to end to ensure that the law deals with false Prophet Emmanuel Badu Kobi.
It should not be an obligation for Kennedy to ensure that Badu Kobi is prosecuted. He has done his part. It is up to you and me to continue from there to teach Badu Kobi that "khaki no be leather", as a Nigerian determined to punish somebody will fervently warn.
A Nigerian will say, "I will show you sey khaki no be leather"
Kennedy Agyapong will always remain so, but not Amma, please. He has done, and continues to do, such a marvellous job for mother Ghana and you and me.
How I wish most of the Members of Parliament would serve the country in same selfless capacity.
Rockson Adofo
Friday, 20 March 2020