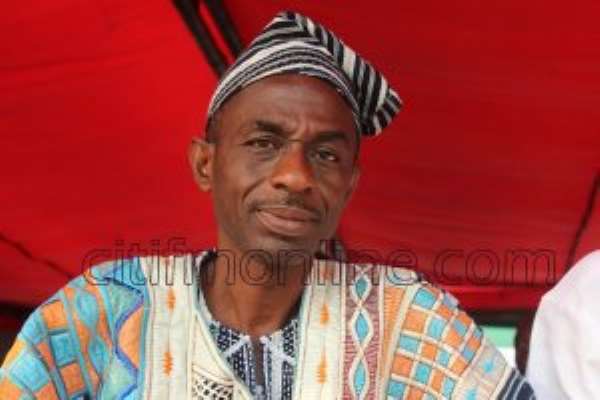 Asiedu Nketia
Sounds outrageous, isn't it? Anyway, you haven't heard anything yet. Things could get crazier when we inch up a little closer to the 2020 General Election. This is why I think politics is like psychoactive drug. If you don't take the right dosage you might end up at a wrong place.
In politics, there are those who are extremists.
And this element of extremism cuts across both or all sides of the political spectrum. They'll support their party's view, even if that view is dead wrong and stinks like skunk. Their party's interest always comes first, regardless.
Speak of the devil, he just joined the queue of saboteurs, trumpeting his fallacious argumentative strategy-- desperately trying to brush aside genuine topic of national interest.
The apocalyptic COVID-19 is here trying to find a foothold. The pandemic disease is breaking limbs, collapsing businesses and tearing families apart worldwide. But Mr. Asomasi is also trying to avoid that issue at hand. Instead, he's attacking the character, motive and substance of the argument itself.
And I'm not surprised at all. That individual has gained reputation for notoriety. Often going rogue and acting mischief. In fact that appears to be the trademark of those guys. They're stomach politicians.When the visionaries are thinking about the next generation they're busy thinking about the next election.
How could Asiedu Nketia stoop too low?
Well, I tend not to believe that the NDC general secretary's misguided line of thought, which grabbed the headlines about 72 hours ago, reflects the collective view of some eminent personalities of the National Democratic Congress (NDC).Or does it?
Sounds something like: You're in a fool's paradise.'
"This whole announcement of emergency here, emergency there. Stopping this gathering stopping that gathering, in my view, on the surface, it would appear to the world that the president is acting to deal with COVID-19," remarks Johnson Asiedu Nketia NDC.
But the real intention is not to deal with COVID-19 ...and so on. The real intention is to find space put the pieces of the rigging equipment together so that by the time everybody could say Jack the election has been compromised," he argues.
What you heard there is called, Ad hominem fallacious argument. And it seems Kwabena Nketia was trumpeting from Mount Horeb, where COVID-19 is forbidden to climb, so to speak. His claim or assertion that the ban on church-related activities is a plot to rig the elections is outrageous and unfounded.
Beside, the conclusion of the argument doesn't support the premise.Yet the arguer (Mr. Nketia) spends time trying to criticise the President without addressing the pandemic disease.
The heart of a fool conceives evil, says this writer.
What shall we achieve, if we spend all our time, all our energy and all our resources stoking the political fire?
President Akufo-Addo, on Sunday15, March 2020 issued a fiat as part of measures to stop the spread of coronavirus in the country. Ghana has since recorded 11 COVID-19 cases as of Thursday-- all coming from outside her frontiers.
Mr. Akufo-Addo placed the ban on church-related activities, mosques prayers, and all other public gatherings exceeding 25 persons.
In a related development, some pastors in the country have chastised the President. One of them even issued an ultimatum. They don't appear to see eye to eye with the President's directive. Others have also made passionate appeals to Mr. Akufo-Addo to tamper justice with mercy. In other words, he should lift the ban on church-related activities so that they could congregate, collect their offertories and tithes etc.
I thought those who claim to have Elijah's eye would come out to say they've found a cure for the pandemic disease. Where are the doom prophets and where are those that predict election results?
Let me make this clear to our so-called Men of God. Ghana is not the only country observing social distancing and banning social activities. The United States, France, Italy, Turkey and many more are doing so. Even the Pontiff, instead of appearing before crowd in St. Peter's Square he broadcast a video message over television.
So, Please pastors stay home and let's all help to stop the spread of the Coronavirus. Remember, keeping faith in God doesn't mean keeping hands in between one's thighs and singing Hallelujah.
By Gordon Offin-Amaniampong