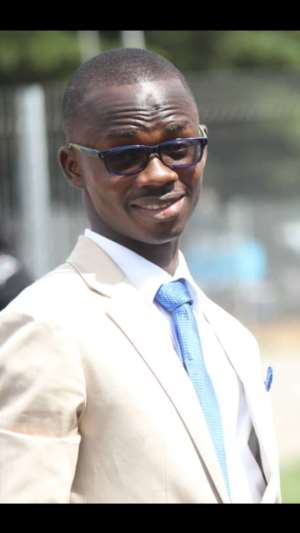 At 4 years, he was reading the Mirror newspaper and the Daily Graphic newspaper. He could memorize whole textbook pamphlets at 7 years. At 9 years old, and at primary six, he and his siblings got their first computer and started learning how to program. At such a young age, he installed both Windows and Linux operating systems on the computer on which they will play games on the windows and program on the Linux operating system.
He took his love for computers to senior high school. In high school, his chemistry teacher put him in a lab to type some documents and estimated that he will use 1 hour for the job; he did it in less than 15 minutes.
In 2011, when he graduated senior high school, his parents influenced him to study medicine but he got declined because of how competitive the admission process was. He tried the following two years but still got declined. In 2014, he got admission at the University of Ghana to study BSc. Chemistry but he dropped out after his first year. Asked why he dropped out, he said, "I got bored and was uninterested in the course. Chemistry was not my thing. I chose it because I was still under the erroneous influence to become a doctor and reading chemistry was a prerequisite to study medicine at the graduate level. However, while I was supposed to learn organic chemistry, I was learning to program in java."
After getting to an intermediate level in programming, he shifted his attention to marketing. "I realized the major problem about creating a billion-dollar tech company was not about the coding," he said, "it was about knowing how to sell the problem that you are solving and whether there was enough pain point for the people who have such a problem."
In 2016, he started his first business – a digital marketing company – which failed two years later because he was ill-prepared on how a business is run. In 2018, he applied again to the University of Ghana and was admitted, this time to study computer science.
The person whose story this is about is Kwadwo Dwomo II, and he is the CEO of the first community media company in the world, Comcent. Other people who form part of his team include Michael Anderson (Chief Information Officer), Rashid Leonard (Chief Operations Officer) and Benny Goodman (Chief Training Officer). "Unlike social media, which is a communication tool for friends and family to communicate and share updates about their lives," he said, "community media is a communication tool for people living in one community to get in touch with leaders of the community and together discuss about problems in the community and offer solutions that can be implemented to make life in the community better."
Comcent Limited has the mission to use technology to solve the United Nation's Sustainable Development Goal (UN SDG) 11, which is designing smarter cities and communities.