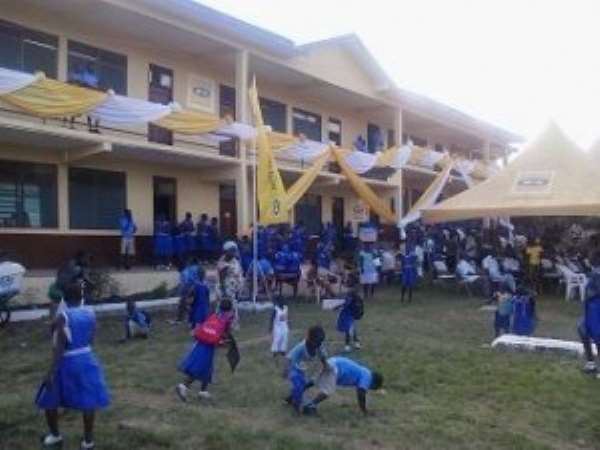 Sang (N/R), March 18, Inadequate number of schools, furniture and textbooks, teacher absenteeism and not prioritizing the education of children have been identified as key factors contributing to the low enrolment of children in basic schools in the Mion District.
This came to light during a stakeholders' review meeting on education held at Sang in the Mion District of the Northern Region to discuss what to do to support especially out-of-school children in the district to access formal education.
The meeting, attended by some teachers, community members, representatives of the Mion District Directorate of Education and pupils, was organized by Plan International Ghana, an international non-governmental organization (NGO), as part of its Reaching and Teaching out-of-school Children (REACH) project, which is sponsored by Educate A Child.
Similar meetings had been held early this month at East Mamprusi and Gushegu Municipalities, and Karaga District, whilst stakeholders in the Nanumba North Municipality, and Nanumba South and Kpandai Districts will take their turns in the coming days before the end of this month.
The REACH project is modeled on the country's Complementary Basic Education Programme (CBE), which affords out-of-school children, who are beyond school starting age (eight to 16 years), the opportunity to acquire basic literacy and numeracy skills within a period of nine months in their mother-tongues to facilitate their enrolment into formal schools.
Out-of-school children in more than 30 districts including Tatali-Sangule, Lawra, Nabdam, Nkwanta South, Ketu North, Kwahu South and West Gonja in the Northern, Upper West, Upper East, Oti, Volta, Eastern, and Savannah Regions have benefited from the REACH project, which is in its fifth and final year.
For the first four years, a total of 66,070 children comprising 35,459 boys and 30,611 girls out of a total of 81,000 out-of-school children, who were enrolled onto the CBE programme as part of the REACH project, had transitioned to formal schools.
The stakeholders argued that the inadequate number of schools, furniture and textbooks, and teacher absenteeism tended to demotivate pupils from remaining in schools, a situation, which continued to force children to drop-out of schools.
They, therefore, came up with action plans to provide basic educational needs of their children, provide educational infrastructure in the communities, strengthen supervision of schools and ensure equitable distribution of teachers to schools to improve the situation to ensure that children remained in schools.
Mr. Nelson Konlan, Mion District Director of Education urged community members to play their roles by helping to supervise schools and report absentee teachers for sanctions as well as lobby government for educational infrastructure to ensure that their children accessed formal education.
Naa Mohammed Bawa, Chief of Tuwua appealed to teachers to accept to remain in the communities where their schools were located to ensure that they were regular and punctual at schools for improved teaching and learning.
Mr. Isaac Gyasi-Ababio, Regional Coordinator, REACH project at Plan International Ghana, expressed hope that the stakeholders would implement their action plans to ensure improved education delivery for, especially children, who transitioned from the REACH project to formal schools.