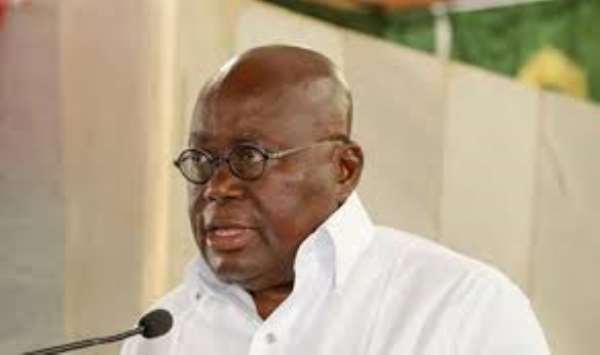 The President, Nana Addo Danquah Akuffo-Addo, spoke tough and on point when he met captains of pharmaceutical industries yesterday over the country's preparedness towards combatting the deadly corona virus pandemic. He reiterated what we have bemoaned as country for decades yet are unable to device solutions to tackle it. That is, our country's reliance on imports or foreign goods to the detriment of local ones. This, no doubt, has been the bane of our ingenuity.
For the President, the threat of the outbreak of the Coronavirus in the country reveals our nakedness towards confronting external shocks. This is not just about the coronavirus pandemic but economic and other external shocks, such external price slums for our exports like cocoa, hikes or slums in external crude oil prices and what have you. The President is, however, optimistic and I agree with him, that the threat of the outbreak of the corona virus pandemic offers us a golden opportunity to break that shackle and overturn the tide. Necessity, the President said, is the mother of invention and I cannot agree more with him!
This call by the President may not be new to some of us International Political Economy students. We have learnt from the history of the Industrial Revolution that the Spinning Jenny was invented as a result of the Britain's attempt to find solution to increasing local demand for textiles after the country banned importation of the commodity from India because she could not favourably compete with Indian textile producers. This was the time labour intensive methods were the only means of textiles production. So, out of necessity, Britain invented the Spinning Jenny which was used to produce textile on a large scale to satisfy domestic demand and export, leading to the first Industrial Revolution.
Similarly, during the Second World War, some countries in Latin America had to rely on domestic solutions for survival since the war stifled international trade. Therefore, due to inability to import to meet domestic demand, such countries had to find solutions to so through local production. This made such countries to industrialise. In addition, during the South East Asian financial crises, the Asian tiger nations, such as Thailand and South Korea, adopted similar measures to deal with the crises. According to Joseph Stieglitz, the Nobel Prize winner for economics, some of the citizens of those countries supported the state with their personal wealth in a form of gold to recapitalize central banks in order to settle foreign debts.
Yes, extraordinary situations require extraordinary strategies to overcome them. The current situation requires us to rally together beyond parochialism to device solutions to hold ourselves in readiness for eventuality. We need to sacrifice, we need to invoke our patriotic spirits, we need to invoke our creative and innovative spirits in order to device solutions from within to address the challenge. There is no challenge without a solution. What is required is careful analysis of the situation in order to device tailored strategies to address it. The situation requires all hands on deck so that we can all put our solders to wheel to propel our nation against this strange enemy.
This is a clarion call by H.E. Nana Addo Danquah Akuffo-Addo, the President of the Republic of Ghana. It is a call that I urge all of us to support so that we will purge our dearest nation of this unseen enemy of corona virus!
Dr. Adams Sulemana Achanso
Dean, Faculty of Education, UDS
A Servant of the Yagbon Kingdom