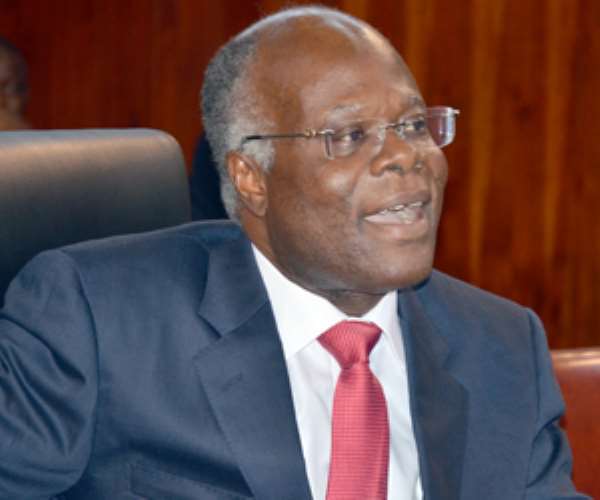 The Youth of Adansi Asokwa Constituency, Concerned Executives, Patrons, Electoral Area Coordinators, and Polling Station Executives have read a press release signed by Dennis Kwakwa and followed interviews he has granted on the release. The press statement and its ensuing commentaries are not only mischievous, incoherent and lack substance but disrespectful to Honorable K. T Hammond and the people of Adansi Asokwa Constituency. We respond as follows:
'DISMISSAL' OR DISRESPECT OF CHAIRMAN WONTUMI
It is instructive to note that Hon. KT Hammond never 'dismissed' or disrespected Chairman Antwi Boasiako. It is the Chairman who was seen and heard 'dismissing' a question Hon. KT Hammond asked about a petition filed against his contender at the vetting. It is therefore false to suggest that KT Hammond 'dismissed' and disrespected the Regional Chairman. KT over the years has shown utmost respect to party officials and he continues to do so.
POLITICAL RECORD
It is funny to note that Dennis Kwakwa, someone who has lost three elections to become Ashanti Regional Youth Organiser and who only became the Youth Organiser by appointment by the Regional Chairman, Mr. Antwi Boasiako talks about records. His claim that Hon. KT Hammond wins with 4,000 votes and cannot see himself as a better MP suggests that he knows and sees no shame. Someone who could not win an election which had an electorate of a little over 800 should not be talking about the impeccable records of KT Hammond.
PERFORMANCE OF K. T HAMMOND
Prior to the 2000 election, the Adansi Asokwa seat was held by the NDC. It was KT Hammond who wrestled the seat in 2000 and has retained it till date. His retention of the seat is because of the good works he has done since 2001. Except the highways from Bekwai through New Edubiasi to Cape Coast and Asokwa to Obuasi, most towns and villages in Adansi did not have electricity. It was KT Hammond who made sure that they were connected to the national grid. Today, all the villages in the Adansi Asokwa constituency have electricity. As the Deputy Minister for Energy, KT made sure that Menang, Afiaso, Subiriso, Tonkwase I and II and other areas in the New Edubiase Constuency, and Sikaman in the Akrofuom Constituency as well as Abadwam and Adumenu in the Amansie areas were all connected to the national grid. No wonder he was made Adansi Nkosohene 17 years ago.
In terms of school buildings, it is instructive to note that Adansi Asokwa even though has a lot of villages, has no schools under trees courtesy the good works of KT Hammond. He has provided classroom blocks for almost every single community in the constituency. Again, through his share of the Common Fund, he has provided scholarships to support hundreds of students from the Adansi Asokwa constituency at all levels.
KT has used his lobbying skills to lobby for job placements in all sectors of the economy for his constituents. Furthermore, during his tenure as MP, Hon K T Hammond has provided boreholes in every single community in his constituency. All repair works on boreholes are undertaken by him. He has also provided CHPS compound for communities such as Asokwa, Pipiiso, Fumso Ketewa, Komsiwa, Nyamekrom to mention only a few.
He has also provided many toilet facilities for communities in the constituency. Interestingly, when the toilets are full it is KT who provides funds for them to be emptied. He has also provided several hundreds of bags of cement and roofing sheets to various religious communities in the constituency.
It is also worthy of note that the highway linking Ashanti and Eastern Regions through Amantia to Aboabo and Asokwa which was constructed about a 100 years ago saw its first surface dressing (coal tar) through the instrumentality of Hon. KT Hammond. He is currently lobbying very hard to get the 2nd segment of the road completed.
We can proudly say that there's not a single development project in the constituency that does not have the signature of our hardworking MP under it.
CONTRIBUTION TO GHANA
In 2001, as a Deputy Minister of Energy, President John Agyekum Kufour, Finance Minister, Hon. Yaw Osafo Maafo, Attorney General, Nana Addo Dankwa Akufo-Addo, Energy Minister, Hon. Kan Dapaah and the cabinet entrusted KT Hammond, a British trained Lawyer to go to France and UK to find finality to a case GNPC was involved with in connection with a Drill Ship. He provided every detail information to key persons mentioned above and successfully negotiated a deal in the interest of Ghana. For the purposes of mischief and to shelve corruption in the NDC government, a Commission was set up by the NDC and the drill ship was used for the purposes of equalisation but the evidence adduced did not support the claim. Even though as a Deputy Minister, KT Hammond was instructed and answered to authorities named above, his name alone is mentioned in connection with the drillship in Ghana. He stood firm in the face of the drillship onslaught to protect the good name of NPP.
It is worthy of note that KT Hammond worked on and sent Ghana's oil agreements to parliament including the oil contracts that have led to the massive discoveries in the Jubilee fields. In fact it is the case that when NDC came to power, one of their first acts was to ask the CID to invite him to explain how come these companies came to Ghana and the discovery of oil.
Under Article 41(f) of the 1992 constitution every citizen of Ghana is enjoined to protect the interest of the state. In keeping with this, KT Hammond fought tirelessly to prevent GNPC from recklessly wasting Ghana's oil money on some undeserving people. For this effort, he is today, all alone in court defending himself for standing up for Ghana.
One may also recall his recent call on government to collect monies owed it in taxes by Anadarko Oil Company which is preparing to sell out and leave the country. The company is yet to meet its tax obligation of 500 million dollars to the state.
In Parliament, KT Hammond has very few equals and he is admired by Ghanaians. These are the people NPP and Ghana must be proud off.
SUPPORT AGAINST KT HAMMOND
It is not only laughable to hear Kwakwa, a monumental loser, openly declaring support against KT and indicating that he will marshal forces against KT Hammond in the primaries. If he had such forces, they could have helped him to win one of the elections he contested and lost miserably. It is absurd and reckless on the part of Kwakwa to suggest that if KT is the only person to retain the seat, let us lose it and that would not be the first time the party would lose a seat to our opponents. For this reckless statement, we invite the Regional party to call him to account for this reckless statement even though we know that the Regional Chairman will not do that.
SHOW OF IGNORANCE
The Honorable KT Hammond never referred to Chairman Antwi Boasiako as a boy. His statement was that the Regional Chairman is the one who wants the boy to contest him even though he is not qualified. If Kwakwa wants to drag the honorable member to the Disciplinary Committee, he has to do it through the national body as applies to Members of Parliament and stipulated in the party's constitution.
Also, our attention has been drawn to publications on ghanaweb and other online news portals that Mr. Akwasi Nti Asamoah, Chairman of Fomena Constituency has suggested that KT Hammond be hauled before the Disciplinary Committee and disciplined. Our checks proved that the article is a hoax and fake news. Mr. Akwasi Nti Asamoah has no knowledge of the said article and you can crosscheck with him. How can Dennis Kwakwa and his irk stoop so low?
By the way, as a matter of interest we will be happy to know if Mr. Dennis Kwakwa will share the reason why he was sacked from Kumasi Girls Senior High School as a teacher with us.
CHAIRMAN KWAME OWUSU AND THE CURRENT CONFUSION
Adansi Asokwa Constituency had remained calm until Mr. Kwame Owusu became the Chairman of the constituency. He has rallied his few followers and with the support of the Regional Chairman as he claims, be working against KT Hammond even before nominations were opened. Chairman Kwame Owusu had openly said this on countless occasions. It is no wonder that he hurriedly organised a news conference to offer an apology to Chairman Antwi Bosiako, when nothing has happened.
CONCLUSION
In conclusion, we want to make it clear that the Adansi Asokwa party as a branch of the NPP is democratic and will continue to uphold the tenets of democracy. We will never prevent anyone from contesting. What we have guarded against is to set bad precedent of allowing someone who does not qualify to contest. We will always make sure that person(s) who intend(s) to contest the seat qualify. This is because rule of law is a fundamental principle in all democratic dispensations.
Mr. Samuel Binfo for the past ten (10) years or less has not been part or be involved in any activity of the party. He has not nurtured the constituency for 2 years as the party constitution stipulates. He is not a member of the constituency party. He has and holds no constituency party card. Any evidence to the contrary is a forgery. Mr. Peter Kwabena Ameyaw, who has from 1992 been Organiser, Chairman, District Chief Executive and immediate past Chairman does not have any records of Samuel Binfo as a member of the Adansi Asokwa party. Again, the Constituency Secretary who has worked for the party for ten (10) years had a cause to worry about because he had not met Samuel Binfo for once. He expressed same when Mr Binfo went to submit his nomination form. Unfortunately, the Secretary was beaten mercilessly by his supporters.
We are aware of the clandestine plan of the Regional Chairman to have him qualified despite all the facts which do not support his qualification. This was corroborated on radio by Hon. Kennedy Agyapong who stated on Oman FM's Boiling Point that he called Chairman Antwi Boasiako about his intervention to get Samuel Binfo to contest the Asokwa primaries, who said yes he wants someone to contest KT because he (KT) does not respect him Chairman Antwi Boasiako. Clearly the decision to allow Samuel Binfo to contest is not based on merit but on Chairman Antwi Boasiako's dislike of KT Hammond. WE CANNOT ACCEPT THIS!
We are calling on the Regional Chairman and all persons involved to take their hands off our HANDS OFF OUR HON. KT HAMMOND.
By: Adansi Asokwa Youth
Concerned Executives
Concerned Patrons
Electoral Area Coordinators
Polling Station Executives