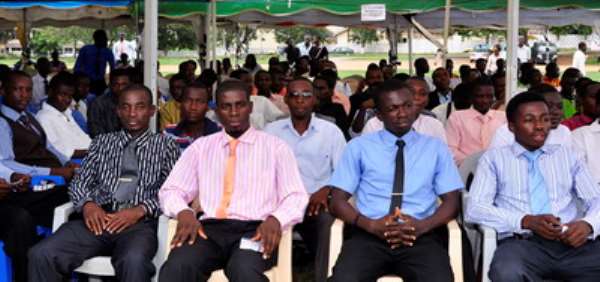 The National Students Awards covers from the basic level to higher-level education in Ghana recognizing individuals and organizations helping to build and develop education in Ghana.
We are by this communiqué informing all Ghanaian students and the general public that, nominations for National Students' Awards, 2020 have been officially opened.
The scheme has honored Educational Heroes like His Excellency Former President John Agyekum Kuffuor, His Excellency Former President Jerry John Rawlings, Dr. Afari, Gyan, The King of Morocco, the Former Rector of GIMPA Prof. Adei Mensah, the former Greater Accra Regional Police Commander DCOP Christian Tetteh Yohuno, the Vice-Chancellor of the University of Ghana (Prof. Ebenezer Oduro Owusu) Prof. Mrs. Esi Awuah (Former Vice-Chancellor of the University of Energy and Natural Resources), Prof. Joshua Alabi (of the University of Professional Studies, Accra), Ms. Dorothy Gordon (of the Kofi Annan ICT Training Center), Mr Yaw Ampofo Ankrah the ace Journalist and President of the Ghana Beach Soccer Association, His Excellency Awaah Fred (Former Secretary-General of the All African Students Union), and His Excellency Peter Kwasi Kodjie (Secretary-General of the All African Students Union).
Additionally, the scheme has awarded reputable organizations like The Ghana Police Service, The Ghana Health Service, The Ghana Prisons Service, Friedrich Ebert Stiftung, Occupy Ghana, GCB Bank. DVLA, Metro Mass Transit Ltd., among others.
You may follow the link below to make your nomination for the prestigious National Students' Awards, 2020.
Find below the list of categories available for nomination:
AWARD CATEGORIES FOR NSA GHANA 2020
A. STUDENT HALL OF FAME
1. Student Personality of the year
2. Student President of the Year
3. Women Commissioner of the Year
4. Secretary of the Year
5. Treasurer of the Year
6. PRO of the Year
7. Student Journalist of the Year
8. Student Entrepreneur of the Year
9. Student Sports Personality of the year
10. High School Personality of the Year.
11. Basic School Personality of the year
12. Rising Star of the Year
13. Student MC of the Year
14. Student DJ of the Year
15. Hall of the year
16. National Student Association of the year
17. Student Blogger of the year
18. Campus Group of the year
19. Campus Radio Station of the year
20. Student Author of the year
B. HONOURARY AWARDS
1.Educational Heroe of the year
2. Dean of the year
3. National Best Students' Teacher
4. Vice Chancellor of the year
5. Most outstanding MP (in supporting education)
6. Principal of the year
7. Most outstanding Chief (in supporting education)
8. Most Outstanding MCE/DCE (in supporting education)
9. Headmaster of the Year
10. Most Outstanding Religious Leader (in supporting Education)
Nomination process
Only Students should make nominations at https://cliqafriq.com/nsa/nomination/index.php .
For further information as well as detailed requirements for every category, kindly download our 2020 Handbook at https://cliqafriq.com/post/6560_national-students-039-awards-handbook-2020.html
For enquiries and Sponsorships, you can WhatsApp or call 0249774457
Nominations will close on Tuesday, June 30, 2020
Signed
Executive Director NSA Ghana
Signed
P.R.O, NSA Ghana
Signed
Chief Executive, CLIQAFRIQ
( www.cliqafriq.com )