60 Widows Benefit From Literacy, Livelihood Enhancement Project In The North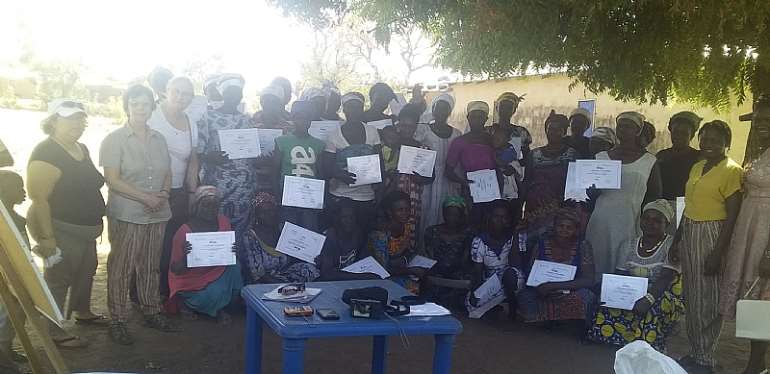 "Even though I am old, I wanted to learn how to read A-Z and count the numbers, at least before I go I would be able to read small and know how to count. My life is not wasted and there is no limit to learn," said Nabaalma Onipuo in her local language.
She is a 50-year-old widow of Nyoli-Koraa and one of the 32 widows who completed the functional literacy class and livelihood enhancement program, under the Kpiengu: "Giving widows a chance project" funded by Jacob's Well Appeal-UK, Souter Charitable Trust of Scotland and The Pollination Project, USA in collaboration with their local partner Sahara Advocates of Change (SAC).
The project is a replication of the first intervention in the said community. The first intervention was successfully implemented in the first quarter of 2019 to 20 widows (who choose to do round soap making for their livelihood project). Due to its success, Jacob's Well Appeal collaborated with Souter Charitable Trust to fund the second intervention in the community.
There are over 200 widows in the community and its neighbour- Nyoli Dossah, but due to some budgetary constraints SAC was only able to enrol 60 widows.
"Why are we focusing on widows? It is because they are more vulnerable, due to our outmoded cultural practices. They have to care for their children and themselves without any help and have to struggle harder than any of us because of their situation, so we at SAC, decided that if we need to help communities, we should focus on helping the widows and your impact will go a long way," explained Lina Beneb, SAC programs manager.
"There are so many communities that needed help and Nyoli-Koraa and Nyoli-Dossah came into the picture as they are far from development due to its geographical location (it's the border communities of Wa West and Sawla-Tuna-Kalba Districts and of the Upper West and Savannah Regions) and usually communities like this are not noticed by their leaders for any development unless its election time," Ms. Beneb indicated.
Ms. Beneb added that the widows were selected based on the following criteria:
1. the number of children/dependents they were feeding;
2. The number of acres they farmed; and
3. Source of income through-out the year.
After 10-month long (May 2019 to February 2020) implementation, the project was able to:
a) Provide adult literacy (reading and writing) and numeracy training as well as reading classes to thirty-two (32) widows, including knowledge on basic records keeping, budgeting, savings, management and leadership;
b) Provided capacity training to forty widows on sexual and reproductive education and health care;
c) training in alternative livelihood:
♦ In Nyoli Dossah- SAC ran an Orange Flesh Sweet Potato (OFSP) farming component as an alternative livelihood with twenty women who were provided with Orange Sweet Flesh Potatoes to enhance the nutrition in their diet and to earn an income from a different crop. They were asked to save some for planting in the next season.
♦ In Nyoli Koraa- SAC provided a shea butter crushing machine as the widows requested for it.
Ms. Beneb said that the project was fortunate to purchase a shea-nut crushing machine and funding from The Pollination Project, USA to construct a simple building to house the machine where the women in the villages can come and crush it for a small fee.
During the turn-over of the mill and the machine, Nabaalma expressed that now they can support their family well as they got more skills and reiterated that those people who helped them make this things reality will be blessed more and hopes that more communities and widows like them will benefit. She also promised to the donors that they will do their very best to make it work and unite to make things better for themselves. The group is on the process of instituting bye-laws for the operation of the mill.
"We will continue our monitoring of all the interventions under this project and we do hope that the crushing mill will help our women earn more income and more people will patronize their mill so they can continue to expand it. We do thank our donors for the trust and confidence to us and hope we will have more communities to help," added Ms. Beneb.
(PR)
About:
Jacob's Well Appeal- is a Christian UK registered charity based in Beverley, East Riding of Yorkshire. Which send medical aid, agricultural and educational aid to Eastern Europe, Asia and Africa. Its mission is to relieve need, hardship, sickness and distress and also run projects in Sub Sahara West Africa where it works with various partners. It has previously funded SAC with establishment of 5 mango plantations, 1 borehole installation, 3 borehole repairs, groundnut farming, 3 dry season gardening all in various communities of the Upper West and Savannah Regions.
Souter Charitable Trust- the trust assists projects engaged in the relief of human suffering in the UK and overseas – particularly, but not exclusively, those promoting spiritual welfare.
The Pollination Project is a US Based non-profit organization that seeks to unleash Goodness and expand Compassion all over the world.
Sahara Advocates of Change (SAC) is based in Upper West Region and aims in Empowering the women and girls through capacity and enhancement training in gender equality, functional literacy, health care and livelihood diversification in the remote areas of Ghana to contribute in nation-building.