SJS Brings Together Over 50 Journalists, Editors For A Consultative Meeting On Democracy, Journalism And Election Reporting In Times Of Disinformation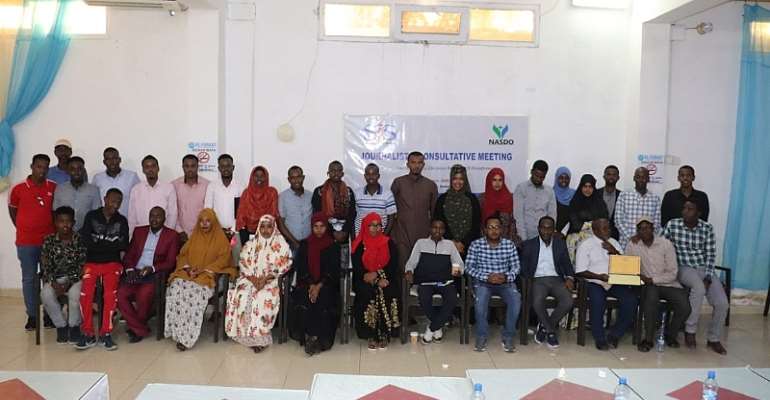 Somali Journalists Syndicate (SJS) organized journalists' consultative meeting on Democracy, Journalism and Election in times of Disinformation in Mogadishu on Friday 13th March, 2020 to highlight the state of press freedom, access to information and to raise awareness challenges on Somalia's current press freedom.
More than 50 senior journalists, editors and representatives from key media houses have attended the one-day consultative meeting which also made a call for Somali president to withhold the controversial media law currently awaiting president's assent.
At his opening remarks, Abdalle Ahmed Mumin, the Secretary General of Somali Journalists Syndicate (SJS) stressed that free and fearless media is the central pillar of any democratic society and called for unhindered access of information be provided to the independent media and the need for the government to respect the press freedom and free editor of Radio Hiigsi, Mohamed Abdiwahab Nuur (better known as Abuuja) who is held in communicado in NISA prison for the 8th day.
"We all know that Somalia is going to hold both presidential and parliamentary elections and we should also note free and fair media should be the only way in ensuring democratic elections"," Abdalle Ahmed Mumin, the Secretary General of Somali Journalists Syndicate (SJS) said "It is unfortunate that journalists in Somalia are continuously threatened, harassed and targeted due to their reporting, one of them still held in communicado in NISA prison for the 8th day."
Mr. Mumin further emphasized the critical role the media plays in promoting pluralism and called for authorities and all actors in the country to respect the work of the independent media by providing full access to information including framing electoral issues, informing the electorate about the main developments, and communicating the platforms, policies and promises of parties and candidates.
"I call for President Farmaajo to act now and stop signing the draconian media law currently waiting his signature as this law is affront to the freedom of the press and is a restriction against the legitimate work of the journalists and should not signed into law," Mr. Mumin adds.
Nafisa Hersi Ogle, the Secretary of Gender Rights of Somali Journalists Syndicate (SJS) highlighted that women journalists need to boldly focus on issues related to women participation in the electoral process including to making sure that female candidates have the equal right to the male counterparts and also advocating for the 30% quota declared for the Somali women in the previous Somali electoral cycles, but with limited results.
"SJS wishes to encourage women in the news to advocate for equal rights for women compared to their male counterparts in the politics. Similarly we have to admit that many female reporters are not able to report freely and this is a worrying trend but we have to come out. Press freedom should be respected by all sides," Nafisa told the participants of the conference in Mogadishu.
Abdul Aziz Billow Ali, a Mogadishu-based correspondent of CGTN TV has touched how lack of access to information affected the daily news coverage of the independent media.
"Nowadays it very hard to find information. It is like nobody is willing to talk to the media and provide information that is of the interest of the public. I think reporting election will be even harder and countering fake news will be a challenge due to lack this sort of media blackout we are facing," Mr. Billow said.
Hussein Abdulle Mohamed, a senior news editor and producer of Radio Kulmiye and Universal TV has thanked SJS for organizing this conference as he has pointed out the need for an immediate change of the situation.
"We are independent journalists and it is our work to ensure that all segments of the society are provided with accurate information so that the Somali people will have informed decision-making during the election period. To ensure this, we need also to be independent at all cost," Mr. Abdulle said.
Abdul Aziz Barrow, a senior broadcast journalist has encouraged journalists and editors in the newsrooms to invest in fact checking mechanisms to avoid misinformation. He added "Many journalists in Somalia are self-censoring. We need to overcome this reality. No journalist should be threatened because of his/her reporting."
Abdirahman Hassan Mohamed, the Director of Nolol Awareness and Social Development Organization (NASDO), whose organization also supported this conference, has described the work of the independent media very vital and he underscored that disinformation and propaganda may mislead the population and interfere with the public's right to know, particularly during the elections.
"We therefore like to support organizations like SJS and other media houses to do their work in a full capacity of autonomous," Mr. Mohamed emphasized.
At the end of the consultative conference, Somali Journalists Syndicate (SJS) honoured nine senior journalists and editors for their role as active press freedom defenders in Somalia.