Danger Looms Over Kpone Landfill Site As Youth Threaten Protest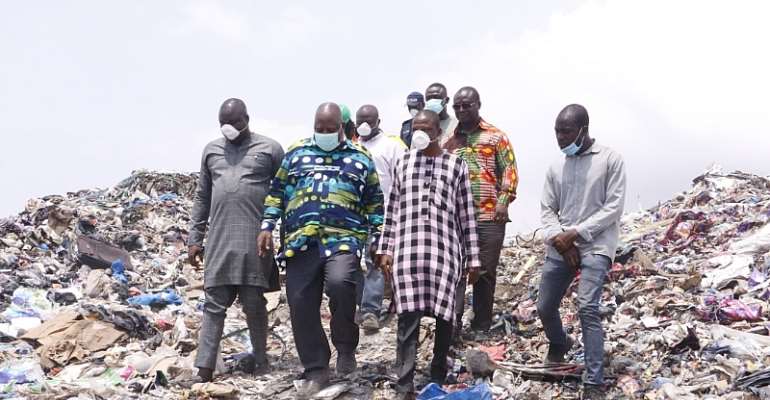 A youth group called Organized Youth for Development (OYD) at Kpone in the Kpone Katamanso District Assembly (KKDA) has threatened to embark on series of legally permitted actions including organized demonstrations against the government to shut down the Kpone Landfill site which they say is killing them in the municipality.
Narrating their ordeal, the youth leader Mr. Nii Noi Tetteh lamented over the fruitless engagements they the youth of the area have had with the Minister of Sanitation and Water Resources, Mrs. Cecilia Abena Dapaah and the Greater Accra Regional Minister, Mr. Ishmael Ashittey over the period, not less than six months.
A viciously frustrated Tetteh said "We are on our last lifeline, we have no such luxury of time to wait anymore"
Because of this landfill, he said they have most of their water bodies to the leach and many of the inhabitants have died mysteriously.
He said there are no accessible roads and any development activity going in the municipality which is a worry to the youth of the area.
The Regional Minister flanked with other metropolitan and municipal chief executives were on a tour to assess the state of the landfills and to engage the youth further for a truce upon news that the youth were readying to demonstrate against the government for the closure of the Kpone landfill.
Fire gutted the Kpone Landfill on August 15, 2019, and up till now, the fire is still burning which resulted in the decommissioning of the landfill.
The oldest site on the same land has therefore been used to accommodate waste amounting to 800 and 900 tons in a day.
The Regional Minister Hon. Ishmael Ashittey appealed to the youth leaders to talk to their members to calm down for government has already awarded their road as part of "government's special roads" to a contractor who is mobilising to come to site and that government was almost ready to relocate the landfill site from Kpone.
He said he has had discussions with the Sanitation and Water Resource Minister and the relocation will execute as soon as possible.
The Municipal Chief Executive of the Tema Municipal Assembly (TMA), Hon. Felix Annang-La appealed to the youth for cool heads saying it was practically impossible for the government or the TMA to shut down the Kpone landfill overnight.
According to the MCE, the government has decided that all other parts of the Greater Accra Region except Tema, Ashaiman, and Kpone are not supposed to dump their refuse at the Kpone Landfill again which is an agenda to reduce the pressure on the landfill until the relocation is successfully done.
Mr. Annang-La appealed to patrons of the facility from other parts of Accra to desist from hauling waste from Accra to the site any further.