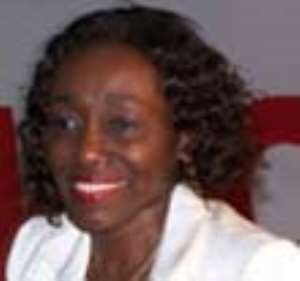 Barring unforeseen circumstances, the case in which the former First Lady,
Nana Konadu Agyemang Rawlings is standing trial with eight others at an Accra Fast Track High Court is set to continue today. The former first lady is standing trial with the others on 30 charges for their alleged role in the divestiture of GIHOC Nsawam Cannery to Caridem Development Company Limited.
The case which was first called last month could not be heard because some of the accused persons were not in court as they had not been served with notices to appear. Others said they appeared only because they had heard their names on radio.
During the first appearance of the former First Lady in court, the 31st December Women's Movement (DWM) of which she presides as well as supporters of the National Democratic Congress (NDC) thronged the court premises to await her and her husband's arrival in a show of solidarity. Security personnel on duty at the court premises had a tough time controlling the general rowdy party supporters.
The presiding judge, Justice Bonnie-Bonnie, adjourned the case to enable those who were not served to be served and for the pleas of all the accused persons to be taken together. Nana Konadu and her alleged accomplices including Emmanuel Agbodo, former executive secretary of the Divestiture Implementation committee (DIC), Kwame Peprah, former Chairman of the DIC, face charges which include causing financial loss to the state in an alleged fraudulent divestiture of the Nsawam Cannery to Caridem, a company owned by 31st DWM. Other accused persons include Sherry Ayittey, Managing Director of Caridem, Georgina Okaitey, General Manager, Larry Adjetey, Secretary, George Mould, a director and Thomas Owusu, an accountant.