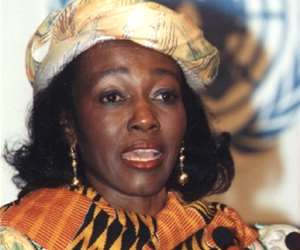 A bench warrant has been issued today by an Accra Fast Track High Court presided over by Mr Justice Baffoe Bonney, for the arrest of an accused person in the Republic vrs Nana Konadu Agyemang Rawlings and others case. The one to be arrested is the Accountant of the DIC, Thomas Benson Owusu.
Earlier Counsel for Nana Konadu Agyemang Rawlings, Sherry Ayittey etc. prayed the court to struck out the charges on willfully causing financial loss to the state because the charges misinform the court. Tony Lithur backed his submission with the explanation that section 179 A (2) of criminal code-under which accused person were charged for causing financial loss is rather concerned with loss of property and not well defined to include loss of finance.
The defence lawyer said it is section 179 A (3) that touched on causing of financial loss. The Attorney General and Minister of Justice, Mr Joe Ghartey responding stressed that there is nothing wrong with the said charges on causing financial loss as in similar laws, loss of property to the state is defined to include loss of finance. He therefore prayed the court to take the plea of accused persons.
The Judge in his ruling on the issue dismissed Mr Lithur's application and stated that at this stage definition of loss of property to include money or not can't stop the taking of pleas. He said he would definitely acquit and discharge the accused persons if the evidence brought by prosecution does not merit conviction. The Attorney General (AG), Mr Ghartey informed the court that evidence will be led to prove that accused person were not transparent in the divestiture of GIHOC Nsawam Cannery to Caridem. Also the AG said prosecution will tender in evidence a report from Auditor General's Department that implicates accused persons in this case.
A large number of people trouped to the court including Ex-President Jerry John Rawlings amidst drumming, singing and dancing to support Mrs. Rawlings, former 1st Lady of Ghana. The presiding Judge advised journalists not to sensationalize the trial. Listeners would recall that the former 1st Lady, Mrs Rawlings, Ms Sherry Ayittey, Emmanuel Agbodo, and three others were charged with conspiracy, stealing and willfully causing billions of cedis financial loss to the state. All the accused persons pleaded not guilty to all the 30 counts of charges against them. The case has been adjourned to 29th May through to 2nd June, 2006.